Egypt's Muslim Brotherhood to run candidates for half of Parliament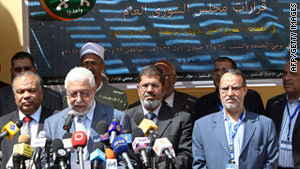 Members of Egypt's Muslim Brotherhood announce the formation of the Freedom and Justice Party.
STORY HIGHLIGHTS
The Muslim Brotherhood is Egypt's oldest and best organized Islamic movement
The group also announced its new political wing, the Freedom and Justice Party
As earlier promised, the Brotherhood won't run a candidate for president
Secularists are wary the Brotherhood wants to dominate the September elections
Cairo (CNN) -- Egypt's Muslim Brotherhood will run candidates in about half of the Parliamentary seats in the September elections, the group announced Saturday.
But the group again said will not field a candidate for president, according to a statement by its executive council on its website.
The country's oldest and best-known organized Islamic political movement also identified the leadership of its new political party, the Freedom and Justice Party, the group said in another statement.
"The Executive council of the Muslim Brotherhood announces they have chosen Dr. Mohamed Mursi as a leader for the Muslim Brotherhood 'Freedom and Justice Party,' Dr. Essam El Arian as deputy leader and Dr. Saad Al Katatny as secretary general, for one term," the group's statement said, though it didn't define the length of that term.
"The Brotherhood executive council has in addition defined the percentage of Parliamentary election participation will be at 45 to 50 percent," the statement added.
Egyptian analysts have said that the upcoming Parliamentary election favor established, organized groups like the Brotherhood over more secular groups that are struggling to get organized in the Arab country's revolutionary change.
Despite its longstanding role in Egyptian society, many secular Egyptians are wary of the group's deeply conservative and religious ideology, analysts said.
The Brotherhood had earlier indicated that it would not put forward a presidential candidate, easing some fears that the group would seek to dominate the elections.
After a revolution toppled autocratic president Hosni Mubarak, Egyptians approved sweeping constitutional reform in a historic referendum in March, setting the stage for the September elections.
CNN's Nima Elbagir and Michael Martinez contributed to this report.