Libyan opposition wants only a place at negotiating table, Lavrov says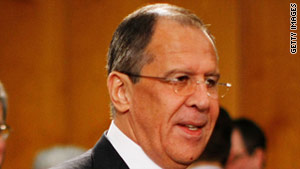 Sergey Lavrov (pictured) was speaking after a meeting with Libyan opposition spokesman Abdel Rahman Shalgam.
STORY HIGHLIGHTS
Russian Foreign Minister Lavrov meets with a Libyan opposition representative
The opposition knows it will be one of several parties in talks, he says
Lavrov hopes a strategy will be worked out "that will help end this bloodshed"
Moscow (CNN) -- The Libyan opposition is not asking to be recognized as the "sole legitimate" authority in the country, Russian Foreign Minister Sergey Lavrov said Tuesday, a day after meeting with opposition representative Abdel Rahman Shalgam.
Instead, he said, Shalgam asked only that the National Transitional Council, based in Benghazi, Libya, be considered "as a legitimate partner in the talks" aimed at settling the nation's conflict, Lavrov said.
Opposition officials are aware, Lavrov said, that the settlement talks should also involve other parties, including representatives of Tripoli and western regions of Libya.
Lavrov said he hopes a crisis settlement plan for Libya can be formulated at an upcoming session of the African Union.

NATO warplanes bomb Tripoli

Keeping Gadhafi forces out of Misrata
"I hope that some strategy will be worked out based on all of these approaches" -- referring to ones offered by opposition representatives in Benghazi, the African Union and the United Nations -- "that will help end this bloodshed as soon as possible," he said.
Speaking to reporters after his meeting with Lavrov, Shalgam said Monday that the Libyan opposition would like to continue dialog with the Russian authorities "because Russia is a very important state and a permanent member of the U.N. Security Council."
"We have agreed to remain in contact over the situation in Libya," he said.
Shalgam reiterated that the Libyan opposition is not going to strike any reconciliation deal with the country's ruling government, and insisted on the immediate resignation of leader Moammar Gadhafi.
"We will have peace and no gunfire when Gadhafi relinquishes power or leaves the country," he said.
Shalgam also said the Libyan opposition does not want NATO to conduct a ground operation in Libya.
Last week, Lavrov also held separate talks in Moscow with an envoy of the Libyan government, the secretary general of the World Islamic Call Society, Muhammad Ahmed al-Sharif, as well as U.N. Special Envoy for Libya Abdul Ilah Khatib.
FOLLOW THIS TOPIC


Part of complete coverage on

Pro-Mubarak supporters believe Egypt's former president is innocent of charges of corruption and killing protesters.

Fighting in Libya started with anti-government demonstrations in February and escalated into a nationwide civil war.

After months of seeming stalemate, Libyan rebels declared they were moving in on Tripoli. But who are they?

Six months and more than 17,000 air sorties after it began, NATO's Operation Unified Protector in the skies over Libya grinds on.

Click on countries in CNN's interactive map to see the roots of their unrest and where things stand today.

Are you in the Middle East or North Africa? Send iReport your images. Don't do anything that could put you at risk.

Behind the official smiles for the cameras some people in Libya's capital are waiting for the rebels, reports CNN's Ivan Watson.

Tunisia's Mohamed Bouazizi not only ignited a series of revolts but heralded the first appearance of Arab youth on the stage of modern history.


Today's five most popular stories