STORY HIGHLIGHTS
Children in Togo at risk of exploitation from traffickers
Radio Venus is run by teenagers and educates people about the dangers of trafficking
Radio an essential information tool in regions of Africa without internet access
Broadcasts teach thousands of people about issues ranging from health to child trafficking
(CNN) -- In a small village in Togo, local teenagers are producing a radio show to educate other youngsters about the very real dangers of child trafficking.
Villagers in Sakode regularly gather around their radios to listen to a docu-drama called "Agugue." It is named after the town across the border in Ghana where children are lured with promises of high-paying farm jobs, but where they can end up being exploited.
The show is produced by teenagers at Radio Venus, an initiative is supported by UK-based charity Plan International. The young people behind the broadcast do everything from scriptwriting to voicing and broadcasting.
President of the program, 18-year-old Sikiratou Ouro-Bossi, says it is raising awareness. But it's not just the youngsters who are learning about child trafficking.
"Through the drama people are aware -- this is helping people," she said.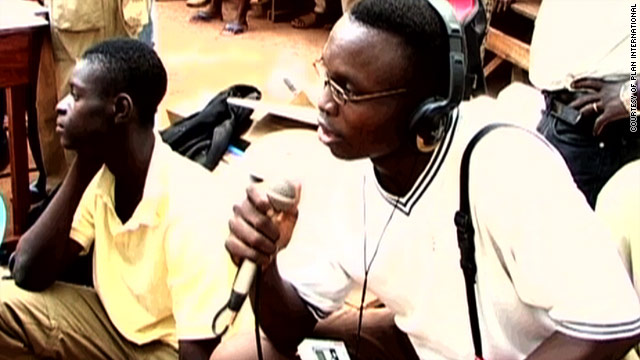 Gallery:
"Even with my family, even with my situation, with four girls, because I am with this project and they can see what I am doing, my parents have accepted that we go to school and not to Ghana."
According to Plan, agents working for organized child-trafficking groups gain access to impoverished communities in Togo with tempting offers of schooling or work opportunities elsewhere.
Children are sometimes recruited without their parents' consent. Those parents who agree to their children leaving are usually unaware of the full implications of their decisions and often believe they are giving their children a better life.
But Plan says girls placed with "guardians" in receiving countries to provide domestic or market labor are often ruthlessly exploited. Boys working in casual agricultural jobs work excessively long hours, sometimes with dangerous equipment, and can be abused by overseers. Few receive any wages.
Francesca Hewitt, senior philanthropy and partnerships executive at Plan, said: "There are some grim stories and these children have had a rough time. But one thing they have done is put together a radio broadcast program to educate and talk about the issues relating to child trafficking in Togo."
Here it's really, really vital to get these messages out because they are so pertinent to day-to-day life, and the radio is the best way to do it.
--Francesca Hewitt, Plan International
Plan is also using radio to educate communities in Mali. Although radio might seem an old-fashioned media format in the internet age, in some places it has become an essential information and educational tool.
The Benkadi Commune Radio Program -- located in Mali's south-western region of Koulikoro -- aims to reduce gender discrimination in West Africa and improve how the news media reports on issues facing adolescent girls.
Regular morning and evening shows reach over 7,000 people, says Plan.
"Everyday, they represent the news of the commune ... talking about issues like health, farming," said Hewitt.
"They also have a debate on social problems that reflect those (issues) that arise within the commune -- like children's health, religion and even problems between the man and wife," she added.
Hewitt added that Mali's literacy rate is very low and the best way to reach people is through the radio because of a strong oral tradition.
She said| "Here it's really, really vital to get these messages out because they are so pertinent to day-to-day life, and the radio is the best way to do it.
"These are people that the villagers identify with. They know their voices, they hear them every day and the issues that face them on a day-to-day basis. So this is a fantastic medium and a really important program."
FOLLOW THIS TOPIC