Egyptian court fines ousted government officials $90 million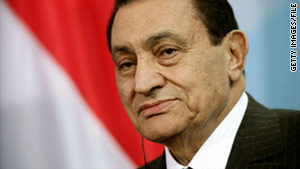 An Egyptian court fined former Egyptian President Hosni Mubarak and his top officials more than $90 million.
STORY HIGHLIGHTS
First court ruling against Mubarak since he was ousted in February
The fines will be taken from the frozen accounts of the former president and two others
They are accused of hurting mobile phone and Internet industries during January protests
Mubarak faces more serious charges
Cairo, Egypt (CNN) -- A Cairo court has ordered the first ruling against Hosni Mubarak since he was ousted on February 11, fining him and his top officials more than $90 million for their role in cutting the mobile phone network and Internet service for five days.
Adel Saeed, spokesman for the general prosecutor, said Mubarak himself was fined $34 million, former Interior Minister Habib El-Adly $50 million, and former Prime Minister Ahmed Nazif $6 million.
"They were charged with cutting the communication to hinder the efforts of the January 25 revolutionaries," he said. The blocks began January 28 as demonstrations against Mubarak's rule heightened in Cairo's Tahrir Square.
The court order stated that they will have to immediately pay these fines from their personal accounts and that the money will be allocated to the national treasury.
Aly Hassan, a judicial analyst affiliated with the justice ministry, said an appeal filed at the Cairo Administrative Court does not mean that the payment will be delayed or stopped.
"The court ordered an immediate payment and the fine may be increased by the state if the damages increase during the year as compensation for lost revenue." he said, adding that the fines would be deducted from their accounts, which have already been frozen.
Mubarak will face the Cairo Criminal Court for more serious charges, including using his political position to acquire funds illegally and potentially capital charges of killing protesters.