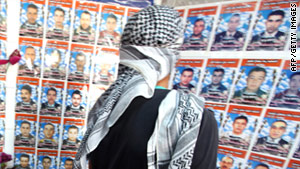 A man at a shop in Misrata, Libya, looks at photos of those killed in fighting.
STORY HIGHLIGHTS
NEW: NATO says anti-Gadhafi sentiment is growing in Libya
The deaths occurred in Dafniya and Zawiya, officials say
Rebels claim a confiscated document details Gadhafi's plans for Misrata
The document was confiscated a month ago from Gadhafi forces, rebels say
Misrata, Libya (CNN) -- Seven people died Sunday in fighting in the town of Dafniya, Libya, near the besieged city of Misrata, according to a hospital spokesman.
The deaths include a woman who died when a Grad rocket landed in her home, said Khaled Abu Falgha of Misrata's Hekma hospital.
Elsewhere, 15 rebels and about 100 Gadhafi forces were killed Sunday in fighting in Zawiya, according to Ahmed al-Hawary, rebel spokesman in Zawiya.
Dafniya was quiet Sunday evening, said Ibrahim Beit-elmal, a spokesman for the Misrata military committee. On the southern front of Abdul Rauf, the rebels were able to capture 10 Gadhafi forces and a few vehicles after an ambush was set for them, he said.
Also Sunday, rebels in Misrata released a document they claim is a battle plan confiscated last month from forces loyal to longtime Libyan leader Moammar Gadhafi.

Rebels: We got hands on battle plan

'Complete chaos' at Libyan hospital
CNN obtained the 15-page document -- titled, in part: "Battle plan to cleanse the city of Misrata from militant gangs" from rebels in the city Sunday. The words "top secret" is written at the top of every page. The name of Gadhafi's son, Khamis Moammar Gadhafi, appears on page 10 as commander of the theater.
CNN could not independently verify the authenticity of the document. The rebels said it was confiscated from a high-ranking official near Misrata between May 18 and May 20.
"This document was very useful but only for a short period of time because as soon as Gadhafi brigades found out that we confiscated them, they tried to change their plans," said Abdallah al-Kabeir, a rebel spokesman.
The documents says Misrata is to be "attacked from six different directions with 11,350 fighters, 4,000 of whom are organized troops, (the rest volunteers). The six directions cover the east and the south."
The "mission" is stated as: "To destroy mercenary elements and deceive youth in Misrata using nine brigades. ..."
Al-Kabeir called portions of the document "exaggerated."
"I think the number of troops and equipment mentioned in the document are definitely exaggerated because they wanted to lift their soldiers' low morale. Also, our intelligence on the ground indicated that Gadhafi forces have a lot less people than what this document says."
The Libyan government has not acknowledged the document.
Government spokesman Musa Ibrahim told reporters Sunday that reports rebels were gaining control of some areas were incorrect, although he said "pockets of violence" remain.
About 130 miles (209 kilometers) east of Tripoli, Misrata has been the scene of some of the bloodiest fighting in Libya's civil war.
Since the conflict began in early February, the death toll is believed to be more than 1,000 people in Misrata, including hundreds of civilians, Dr. Khaled Abu Falgha, a spokesman at Misrata's Hekma hospital, said earlier this month. In April, Oscar-nominated filmmaker Tim Hetherington and photojournalist Chris Hondros were killed in Misrata.
The town has been under siege for months from Gadhafi's forces, who have cut off all land acesss, leaving the sea as the only escape route. On May 11, rebels said they seized the Misrata airport. Heavy shelling has been reported in Misrata in recent days as Gadhafi's forces wage a campaign to seize the town back.
Ibrahim said Sunday that bombardment from the sea and air were the only things preventing Gadhafi forces from declaring victory in Misrata.
NATO said in a statement Sunday that precision-guided weapons were used to strike "a technical vehicle, a tank, a multiple rocket launcher and an armored vehicle" in Misrata.
The organization said anti-Gadhafi sentiment "is increasing in Libya as a growing number of Libyans demand the right to choose their own future." Citizens were openly challenging Gadhafi's legitimacy along the nation's northwest coast between Tripoli and the Tunisian border, it said. NATO said it was "monitoring the situation closely and is taking necessary action to protect civilians."
Earlier Sunday, east of Tripoli, an armored vehicle with anti-aircraft guns was struck "as it moved to threaten civilians," NATO said.
The United Arab Emirates on Sunday became the latest nation to recognize the Libyan Transitional National Council "as the sole representative of the LIbya people," the state-run WAM news agency said.
There have been numerous calls for Gadhafi to step down, but Ibrahim said Sunday, "No one has the right to ask any citizen, much less the honorable leader, to leave. Libyans should ask the leader to leave. A foreign diplomat asking is immoral."
CNN's Amir Ahmed, Raja Razek, Jenifer Fenton and Sara Sidner contributed to this report.
FOLLOW THIS TOPIC