Libya's Gadhafi calls for volunteers, women answer
STORY HIGHLIGHTS
Women in Libya are training to defend Moammar Gadhafi's regime
Women training with weapons is not an uncommon sight in Libya
Masoud: "I liked training and defending my country"
Tripoli, Libya (CNN) -- Embattled Libyan leader Moammar Gadhafi is calling for fresh volunteers in a months-long war with rebels attempting to bring about an end to his 42-year rule -- and women of all ages are answering, CNN has learned.
Women from in and around Gadhafi's stronghold of Tripoli have been traveling south to a training facility in Bani Walid to practice with weapons, a common sight in a country where young girls receive military training in schools.
As NATO's airstrikes crossed the 100-day mark and rebels continue to fight to oust Gadhafi, he is tapping everything and everyone in his arsenal to hold on to power.
At the training facility in Bani Walid, women are training to "defend Moammar and the country," said Sgt. Faraj Ramadan, a woman who is training other women to properly handle weapons.

Noose tightens on Tripoli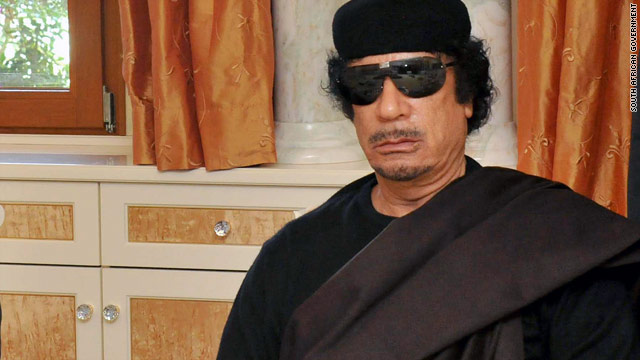 Court issues Gadhafi arrest warrant

Libyan families reunited in war
"They train to use it, assemble it and take it apart, and to shoot," she told CNN recently. "They were trained and got excellent scores."
At a recent graduation at the facility, 40-year-old Fatima Masoud said she liked the training. She said she left her textile job every day at 4 p.m. to train.
"I liked training and defending my country, and now I'm am training women from all ages to use weapons," she said.
It is unclear how many have answered Gadhafi's call or how many had graduated from the program at Bani Walid.
But women are fighting alongside government forces.
A woman, who did not want to identified, fresh from the frontlines, attended the graduation. She was still wearing a cannula in her wrist.
"Do not underestimate any woman in Libya, whether old or young," the woman said. "The woman is still able to perform more than you think."
Gadhafi's government claims it has handed out more than a million weapons to civilians since the uprising began. CNN cannot independently verify the claim.
FOLLOW THIS TOPIC


Part of complete coverage on

Pro-Mubarak supporters believe Egypt's former president is innocent of charges of corruption and killing protesters.

Fighting in Libya started with anti-government demonstrations in February and escalated into a nationwide civil war.

After months of seeming stalemate, Libyan rebels declared they were moving in on Tripoli. But who are they?

Six months and more than 17,000 air sorties after it began, NATO's Operation Unified Protector in the skies over Libya grinds on.

Click on countries in CNN's interactive map to see the roots of their unrest and where things stand today.

Are you in the Middle East or North Africa? Send iReport your images. Don't do anything that could put you at risk.

Behind the official smiles for the cameras some people in Libya's capital are waiting for the rebels, reports CNN's Ivan Watson.

Tunisia's Mohamed Bouazizi not only ignited a series of revolts but heralded the first appearance of Arab youth on the stage of modern history.


Today's five most popular stories