STORY HIGHLIGHTS
NEW: Libyan state TV reports strikes by NATO forces in Gharyan, south of Tripoli
Rebel leaders in Misrata say they are in talks with France about supplying arms
France has not confirmed that claim, but says it has dropped weapons to rebels elsewhere
Libya's leader Moammar Gadhafi is under huge international pressure to step down
Misrata, Libya (CNN) -- The French government is in talks with Libyan rebels about supplying them with weapons and ammunition, a Libyan opposition military spokesman in Misrata said late Thursday.
The French government has not confirmed the claim, which follows an acknowledgement earlier this week that its military has previously dropped light weaponry to rebels elsewhere.
Ibrahim Baitalmal, the spokesman for Misrata's Military Council, said that if the French agreed to help in Misrata, anti-Gadhafi forces there would receive much needed supplies to fight against Libyan leader Moammar Gadhafi's forces.
Misrata is surrounded on three sides by Gadhafi's forces, which are much better armed. The city's only outlet is by sea.
Gadhafi has been under enormous international pressure to step down following a months-long uprising by rebels, emboldened by popular movements across the Middle East, trying to bring an end to his 42-year rule.
The U.N. Security Council approved a resolution in March authorizing force by whatever means necessary, with the exception of a ground invasion, to protect civilians. NATO began bombing military targets a short time later.

Libya's fighting women

Noose tightens on Tripoli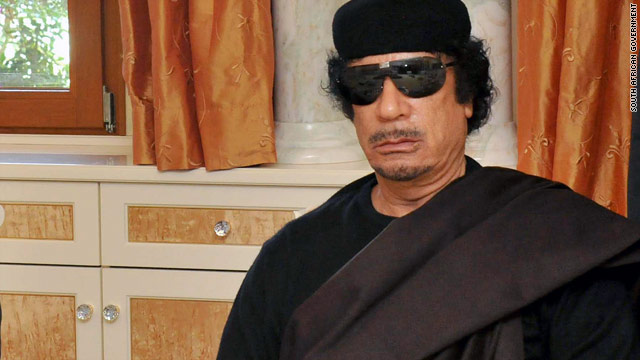 Court issues Gadhafi arrest warrant

Scrambling for cash in Misrata
Libyan state TV reported Friday that NATO had attacked targets in the city of Gharyan, south of the capital, Tripoli.
It also reported that pro-Gadhafi forces had bombed an opposition building in Tobruk, in the far east of the country.
Russian Foreign Minister Sergei Lavrov demanded an explanation from Paris Thursday over its parachuting-in of arms to Libyan rebels -- which was first revealed in a French media report Wednesday -- Russian news agency Itar-Tass reported.
Lavrov said that if confirmed, France's action was in violation of the U.N.resolution.
But speaking in Moscow Friday, French Foreign Minister Alain Juppe said his country's NATO partners and the U.N. Security Council had been told about France's decision to drop weapons for the Libyan opposition.
"We are exactly within the framework of resolutions 1970 and 1973... all means can be used to help civilian populations to protect themselves," he said.
"It's within that framework that we reacted. We informed our NATO partners and the Security Council."
French Ministry of Defense spokesman Colonel Thierry Burkhard confirmed Wednesday that its military had dropped food, medical products and light weaponry by parachute to Libyans in Djebel Nefoussa.
"It became clear that people there were defenseless and very much threatened by Gadhafi's forces," he said. "The weapons were given for self defense because of the security situation."
Speaking at a news conference Thursday, Libyan Prime Minister Baghdadi al-Mahmoudi said rebel forces were receiving arms from France but were not trained in their use.
He said it was reckless of France to take such action, saying it went "against all of the proclaimed aims of NATO's intervention in Libya."
CNN's Ben Wedeman contributed to this report.
FOLLOW THIS TOPIC