STORY HIGHLIGHTS
Aid agencies must deal with terrorist group Al-Shabaab to reach starving in Somalia
Al-Shabaab banned many foreign charities from south Sudan in 2009
The Horn of Africa is now experiencing the worst famine in generations
(CNN) -- For aid donors and humanitarian agencies, it is a Faustian bargain: reach and save tens of thousands of people on the verge of starving to death. The price: come to an "understanding" with one of the most active affiliates of al Qaeda and perhaps help it retain control of large swathes of Somalia.
Such is the equation in the Horn of Africa, where the worst famine in a generation threatens more than 10 million people. Many of them live -- or rather cling to life -- in areas of Somalia controlled by the militant Islamist group Al-Shabaab, which has sworn allegiance to al Qaeda and is designated a terrorist group by the United States.
Previously, Al-Shabaab has either refused to allow aid agencies to operate in areas it controls or imposed tight conditions on their work. In 2009, it banned many foreign aid organizations from providing aid in southern Somalia, describing them as Western spies and Christian crusaders. In January 2010, the U.N. World Food Programme pulled its workers out of the region after they were threatened and harassed by the group. That worsened an already parlous humanitarian situation. But now Al-Shabaab says it is prepared to allow aid groups back into areas it controls.
Last week, the U.N. Children's Fund, UNICEF, flew emergency supplies into Baidoa, a town under Al-Shabaab's control, for the first time in two years. It said it had unhindered access to those in need.

11 million starving in Somalia

Famine strikes Somalia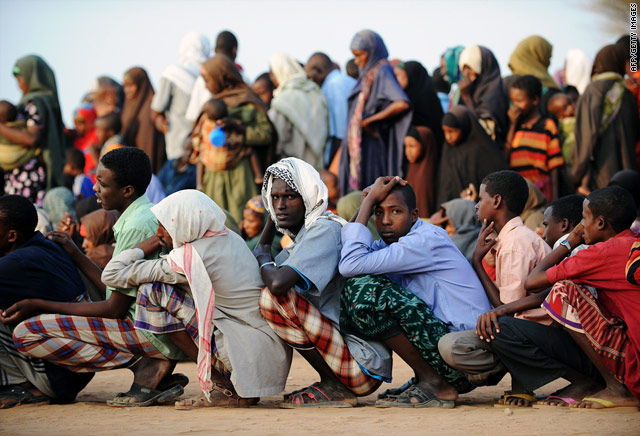 Gallery: Somali refugees flock to Kenya

Somalian govt: Famine worse than 1993
The World Food Programme says a new dialogue -- but not negotiations -- is under way with the group. David Orr, the WFP's spokesman in Nairobi, said it wanted guarantees from Al-Shabaab that it would not interfere with the agency's operations or threaten its staff should it enter southern Somalia.
Orr said conditions were so alarming that it was now a question of when rather than if the WFP would enter southern Somalia.
"We are absolutely prepared to go into southern Somalia and are awaiting guarantees on security ... ground rules that would allow us to access, deliver and monitor the huge amounts of food that are needed," he said from Nairobi.
There may be advantages for Al-Shabaab in readmitting aid agencies. While their cooperation is needed to stave off humanitarian catastrophe, it becomes more difficult for the United States to target their leaders, as it has done recently in a joint CIA-Defense Department program involving drone strikes.
In addition, non-governmental organizations point out that Al-Shabaab has been able to divert food aid for its own benefit and charge organizations fees to operate. Some Somalia-watchers say Al-Shabaab may be trying to win back support in areas where it has recently been on the defensive, areas that have seen a massive exodus of civilians.
It's no coincidence, according to the head of USAID, Rajiv Shah, that the worst affected parts of Somalia are those under Al-Shabaab's control. Speaking to CNN's David McKenzie on the Kenyan border with Somalia, Shah said: "President Obama and Secretary (of State Hillary) Clinton have asked us to test Al-Shabaab, if they're going to provide humanitarian access. We're going to stand with the United Nations and other partners to make sure that humanitarian organizations can get in and can reach the most affected people."
That may hint at a more flexible approach from the U.S. government. One problem for U.S. humanitarian groups: U.S. Treasury rules ban them from any activity that might "materially benefit" a terrorist group. As evidence emerged that Al-Shabaab was taxing convoys and confiscating food, U.S. aid to Somalia plunged, as it avoided any activity that might risk aid ending up in al Shabaab's hands.
That has hurt the work of groups like Mercy Corps, whose policy director Jeremy Konyndyk said the "overzealous" approach from government had made working in Somalia even more problematic.
American non-governmental organizations are uncertain just how "material support" might be interpreted. Vouching for all local partners and contractors -- in a country with no effective government -- is virtually impossible. There is no clause providing immunity for humanitarian work.
Remarks Tuesday by U.S. Assistant Secretary of State for Africa Johnny Carson suggest that there may be some flexibility in the government's approach. "We are consulting with international organizations that have worked in these areas to verify if there has been any real change in Al-Shabaab's policies that would allow us and others to operate freely and without taxation imposed for humanitarian deliveries," he said.
And Clinton said she was "cautiously optimistic that Al-Shabaab will permit unimpeded international assistance in famine struck areas."
Others within the U.S. administration doubt the sincerity of Al-Shabaab's offer. One senior official says he doubts Al-Shabaab will allow foreign humanitarian aid groups back into the region. When asked whether the U.S. trusts the proposal made by al Shabaab to readmit such groups, the official said: "Absolutely not."
The official, who has direct knowledge of intelligence in the region, said there was also infighting within Al-Shabaab even as the U.S. military and the CIA step up operations against the group.
"Their actions are wholly unpredictable," he said.
Some in the aid community agree. One Al-Shabaab faction might well be more flexible than another, says one non-governmental organization. It's just one more source of uncertainty even as the urgency of the situation becomes overwhelming.
The World Food Programme is already feeding 1.5 million people in parts of Somalia not controlled by Al-Shabaab and more than 400,000 in camps on the Kenyan border. It is the largest refugee settlement in the world and likely to grow bigger. But Orr says it's running out of money: Its regional shortfall for east Africa is projected at $580 million over the next six months.
Such is the extent of the famine, aid organizations need an urgent presence in vast areas of Somalia, whether Al-Shabaab is in control or not. Mercy Corps' Konyndyk describes the food crisis in the Horn of Africa as the worst in decades.
How bad? The capital Mogadishu is in ruins, riven by conflict and with no reliable sources of food or medical care. But thousands of Somalis have flocked there as a place of refuge. That's how desperate they are.
CNN's David McKenzie contributed to this report.
FOLLOW THIS TOPIC