STORY HIGHLIGHTS
More than 10 million people in Somalia, Kenya, Ethiopia and South Sudan at risk
Experts say crisis caused by 'perfect storm' of circumstances: Conflict, rising food prices, drought
UNICEF says more than two million children suffering acute malnutrition
(CNN) -- The United Nations has declared a famine in parts of Somalia, as the worst drought for 60 years forces thousands of people to flee their homes and cross the country's borders in search of aid.
Bakool and Lower Shabelle in southern Somalia are already experiencing a famine -- the first for 19 years -- and the U.N. is warning that unless the international community acts quickly, it may spread to the rest of the country within months.
"We still do not have all the resources for food, clean water, shelter and health services to save the lives of hundreds of thousands of Somalis in desperate need," said Mark Bowden, the U.N. humanitarian coordinator for Somalia.
Aid agencies deal with terrorists to reach starving
"Every day of delay in assistance is literally a matter of life or death for children and their families in the famine-affected areas."
What has caused the crisis?
A number of issues -- long-term drought, conflict, a succession of poor harvests and rising food and fuel prices -- have combined to spark a flood of refugees from Somalia into neighboring Kenya and Ethiopia.
"What we are seeing here is almost a perfect storm," said Anthony Lake, executive director of UNICEF, the United Nations children's agency.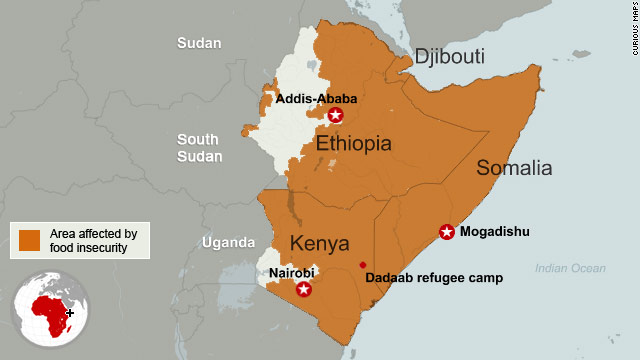 Crisis in East Africa

'Perfect storm' leads to drought

Drought in Kenya a chronic problem

No respite for refugees facing famine
"Slowly but surely, these people have seen their lives fall apart," said Brendan Gormley, chief executive of Britain's Disasters Emergency Committee (DEC).
"Crops, livestock and now their homes have been taken by the drought. They've been left with no alternative but to seek shelter and life-saving help elsewhere."
How has the political situation in Somalia affected the crisis?
The long-running conflict in Somalia has made it very difficult and dangerous for aid agencies to operate inside the country, complicating the crisis.
"Operations in Somalia are among the highest risk in the world," said Josette Sheeran, of the U.N. World Food Programme (WFP). "WFP has lost 14 relief workers there since 2008."
Al-Shabaab, an Islamist insurgent group linked to al Qaeda which controls large areas of the country, banned foreign aid workers from parts of central and southern Somalia in 2010, making it impossible for food agencies to help those most at risk.
The group has recently lifted these restrictions and requested international help -- a move which has been welcomed by the U.N.
How many people are affected?
At least 11.3 million people are in need of food assistance according to the U.N. World Food Programme.
The DEC -- an umbrella group of aid agencies including Oxfam and Save the Children -- reports that "more than 10 million people in Ethiopia, Kenya, Somalia and the newly formed Republic of South Sudan have been left in need of food, water and emergency healthcare."
No respite for refugees facing famine
UNICEF says more than two million children under the age of five in Somalia, Kenya and Ethiopia are acutely malnourished, with 500,000 suffering life-threatening severe malnutrition.
Charity Medecins Sans Frontieres (Doctors Without Borders), which provides health and medical care for Somali refugees, says almost one in three children in Somalia is suffering from severe malnutrition.
What is happening to them?
Many of those fleeing Somalia are heading for the three camps at Dadaab in northeastern Kenya, the world's largest refugee camp, which are already full. A fourth camp is being set up.
UNICEF reports that more than 10,000 Somalis a week are arriving at Dadaab.

Somali refugee crisis worsens

Starvation in Somalia

Hunger in the Horn of Africa
With little money and no transportation, entire families are walking hundreds of miles to reach the camp. Hundreds of people -- many of them young children -- are reported to be dying of starvation on the way there.
The United Nations High Commissioner for Refugees, Antonio Guterres told CNN: "Our heart is broken when we see mothers telling us that after having walked for days to reach safety, they have lost their children on the way."
"The situation is getting more and more desperate by the day," said UNHCR's Emmanuel Nyabera. "We are receiving so many refugees coming in... and they are coming in a very sorry state having walked long distances."
Can the refugee camps cope?
The Dadaab camps -- Dagahaley, Hagadera and Ifo -- was established 20 years ago and designed to house up to 90,000 people. It is now home to more than 350,000, and aid workers there are struggling to deal with the constant flood of people.
"Between Ethiopia and Kenya we're receiving about 3,000 new refugees a day," said UNHCR spokesman Ron Redmond. "Dadaab is absolutely packed. It's now four times the capacity it was built for, with 1,500 more refugees coming every day."
The sheer numbers involved mean that many new arrivals have to wait days for food and emergency supplies once they reach the camp.
UNHCR predicts that by the end of the year, Dadaab will be home to 450,000 people -- more than the entire population of Malta.
The Dolla Ado refugee camp in southern Ethiopia is also close to capacity.
What is being done to help?
The U.N. and humanitarian agencies are working to fly planeloads of aid -- from maize and medical supplies to tents -- to the region.
U.S. musters response to 'staggering hunger'
The U.N. World Food Programme is considering an airlift of high energy biscuits and nutritional supplements for children, pregnant women and nursing mothers, all of whom are particularly at risk.
Other charities operating in Somalia are working to provide emergency food supplies, healthcare, water and sanitation.
What can the public do to help?
UNICEF and a number of worldwide charities, including Medecins Sans Frontieres are running appeals to help raise funds to pay for more food and medical supplies.

In the UK, the Disasters Emergency Committee has already raised £20 million ($36 million), and the British government has given £7 million to UNICEF for its work in East Africa.
In the United States, InterAction is coordinating donations to a variety of American charities for the crisis in the Horn of Africa.
FOLLOW THIS TOPIC