STORY HIGHLIGHTS
School feeding programs in Kenya are in danger of closing for the summer break
Free school meals often provide the only source of food for young children
Some primary schools have closed their doors already due to the lack of food resources
UNICEF: "Schools are actually functioning as feeding centers, life-saving centers"
(CNN) -- For young children in drought-stricken areas of Kenya, primary schools providing free lunchtime meals are operating as "life-saving centers" in communities where food is increasingly scarce.
But with schools due to close throughout August for the summer holidays, aid agencies warn this vital lifeline could be lost just when it is needed most.
"The situation is desperate," says Victor Koyi, National Director of the ChildFund aid agency in Kenya. "If schools close, children are put at ultimate risk, they are made vulnerable and the risk of death is, frankly, very real in those situations."
While the world's attention is drawn to southern Somalia -- where the United Nations has declared a famine -- the government of Kenya has declared its own state of emergency.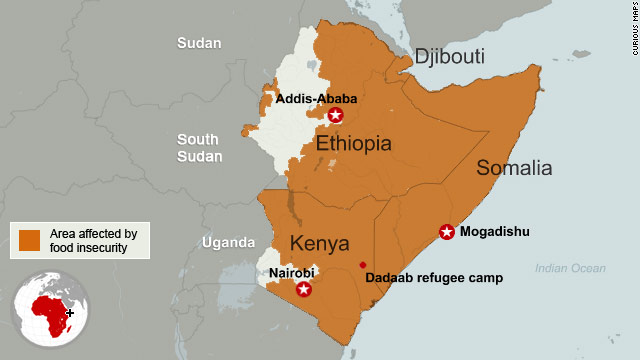 Crisis in East Africa

Man made hunger in Horn of Africa

Drought in Kenya a chronic problem
According to ChildFund, there are around 3.5 million people in Kenya currently facing food insecurity, with children under five making up a third of that number.
The drought has already forced the early closure of a number of primary schools in the region of Turkana -- considered the epicenter of the drought -- simply due to a lack of food.

Many more have been "teetering on the brink of closure, due to the lack of resources," said Koyi.

"The government released more funding for schools in the past few weeks, but the severe effect of the drought has caused a situation where there is insufficient supplies of food in the area," he said.
The Kenyan government currently funds three types of school feeding programs across the country, in collaboration with the U.N. World Food Program.
According to Global Child Nutrition Foundation the programs have long proved effective in improving school enrolment and stabilizing school attendance, as well as increasing completion rates in primary schools.
But what was previously a tool to improve education standards has become the only means of survival for many families, says Suguru Mizunoya, UNICEF's chief of education in Kenya.
"In some of the more arid areas in Kenya, schools are actually functioning as feeding centers, life-saving centers," he said.
In some of the more arid areas in Kenya, schools are actually functioning as feeding centers, life-saving centers.
--Suguru Mizunoya, UNICEF's chief of education in Kenya.
"It's one of the two food sources in the community. So if you close this down, it will accelerate the acute food-shortage situation.

"We are pushing and everyone is trying their best to keep schools open without any breaks," he continued. "In many cases children are only eating one meal a day and for many this happens to be the school meal."

Kenya's government agencies are currently deliberating whether to keep schools open during the month of August. In the meantime, schools funded by international aid agencies, which are still able to provide free food, have seen a sudden influx of students desperate to enroll.
"Last week we saw a school with a normal enrolment of around 150 shoot up with enrolment numbers of close to 250," said Koyi.
ChildFund is currently supplying food to 278 schools and community development centers, feeding around 22,000 young children across Kenya. It plans to keep its food program running throughout the school summer holidays, but Koyi worries it will not be able to cope with the increased demand.
"In the current state and with such limited resources available to other schools, the enrolment numbers I anticipate will double to close to 50,000 in the next few months," he said.
"But unless we have the resources we will desperately be failing," he continued. "The implication of this, is that children are no longer guaranteed a meal. The situation becomes dire and desperate."
He added: "We are appealing to the international community to come to our aid to stretch our hands further so we don't give up on the people who are dying in numbers."
FOLLOW THIS TOPIC