Rebels claim 3 of Gadhafi's sons captured
STORY HIGHLIGHTS
NEW: Four other sons are either hiding or have run away, El Gamaty says
The arrest of Mohammed Gadhafi plays out as the son is on the phone with a news network
Heavy gunfire can be heard and the phone call abruptly ends
The International Criminal Court said it will seek to transfer Saif al-Islam Gadhafi into its custody
(CNN) -- Rebel leaders said early Monday that they had captured three of embattled Libyan leader Moammar Gadhafi's sons -- Saif al-Islam, Saadi and Mohammed -- during their siege of Tripoli.
"As for the other four sons, we think they are either hiding or they have run away," said Guma El-Gamaty, the Britain-based coordinator for Libya's Transitional National Council.
The latest arrest was that of Mohammad Gadhafi, whom the rebels claimed was being confined to his house.
"I'm being attacked right now. This is gunfire inside my house. They are inside my house," a man who identified himself as Mohammed Gadhafi told Al Jazeera in a phone call.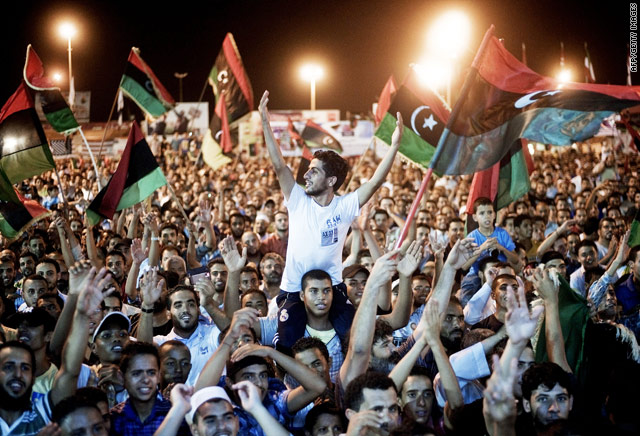 Gallery: Libyan rebels reach Tripoli

Gadhafi son: 'They're inside my house!'

Rebels celebrate in Tripoli

Gadhafi pledges to fight until the end
A barrage of gunfire was then heard and the phone cut off.
Later, the head of the Transitional National Council told the station that Mohammed Gadhafi was not harmed.
Earlier, rebel leaders said they captured Saif al-Islam Gadhafi, a top official in his father's regime. Another of Gadhafi's sons, Saadi Gadhafi, was also in custody, the rebels announced.
The International Criminal Court says it plans to negotiate the transfer of Saif Gadhafi who -- along with his father -- is wanted for crimes against humanity in connection with their attempts to put down the emerging revolt against Gadhafi's four-decade rule in February.
The court, based in The Hague, Netherlands, issued a similar warrant for Abdullah al-Sanussi, the elder Gadhafi's brother-in-law and Libya's intelligence chief.
The third son detained is Saadi Gadhafi, a businessman and onetime professional soccer player. He helped set up an April CNN interview with a woman who claimed she'd been raped by government troops. He later told CNN that those behind the attack should be prosecuted.
Ali Suleiman Aujali, the Libyan Transitional National Council ambassador to the United States, told CNN early Monday he believes the Libyan people should decide whether to hand over the sons to the ICC.
"I believe the choice for the Libyan people they have the rights, you know, what they want to do with them," he said.
Aujali said the decision will be made at a later date. "It's very difficult to say at the present time," he said.
There was no immediate reaction from Libyan government officials to the reports of the three sons' arrests. The whereabouts of Moammar Gadhafi was also unknown.
FOLLOW THIS TOPIC


Part of complete coverage on

CNN's Ben Wedeman offers a rare view of fighters, proud to be Libyan, new to warfare yet willing to fight
Moammar Gadhafi no longer has his Tripoli compound or his power apparatus. He is a fallen leader and a fugitive

The Gadhafi family -- a large, at times quarrelsome clan that helped the embattled strongman hold onto power

Seized documents revealed a close relationship between the CIA and counterparts in the Gadhafi regime

Oksana Balinskaya served as one of Gadhafi's five Ukrainian nurses for nearly two years

Archaeological treasures can be found all over the country, and UNESCO is worried

Abdul Hakeem Belhaj, who once fought with al Qaeda, is now commander of anti-Gadhafi forces in Tripoli

Former CIA director Michael Hayden says building a stable new regime could be as difficult as ousting Gadhafi


Today's five most popular stories