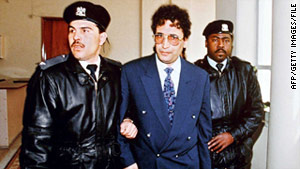 In 2009, Scotland freed Abdel Basset al-Megrahi, shown in 1992, because doctors gave him three months to live.
STORY HIGHLIGHTS
U.S., British authorities want him out of Libya
But the U.S. has no extradition treaty with Libya
New elected Libyan government is almost 2 years away
Al-Megrahi was involved in Pan Am bombing that killed 270
(CNN) -- Politicians on both sides of the Atlantic are demanding that Libya's new rulers extradite convicted Lockerbie bomber Abdel Basset al-Megrahi.
U.S. Sens. Robert Menendez, D-New Jersey, Charles Schumer, D-New York, and Frank Lautenberg, D-New Jersey, have been among those demanding al-Megrahi be sent to the United States for trial. So has Mitt Romney, who is seeking the Republican nomination for president.
Several British members of Parliament have called for his return to Greenock prison in Scotland.
Al-Megrahi was released from the jail on compassionate grounds in 2009 after serving eight years of a 27-year sentence for his involvement in the bombing of Pan Am Flight 103 in December 1988. All 259 passengers and crew aboard the plane, plus 11 people in the Scottish border town of Lockerbie, were killed.
Al-Megrahi is suffering from prostate cancer and at the time of his release was given just three months to live. But two years later he is still alive and was last known to be living in Tripoli, now largely under rebel control. Recent images have shown him in a wheelchair.

Lockerbie families: Prosecute Gadhafi

2010: Is Lockerbie bomber innocent?
His former doctors say he appears to be receiving a hormone therapy treatment that has changed his prognosis and extended his life.
In a statement Monday, Schumer said: "As a transitional government takes hold in Libya, it should seek to undo the injustice of al-Megrahi's release by returning him to the jail cell where he belongs."
Mitt Romney echoed those words, saying: "I call on this new government to arrest and extradite the mastermind behind the bombing of Pan Am 103, Abdel Basset Mohmed Ali al-Megrahi, so justice can finally be done."
Lockerbie victim's kin cheering rebels
There has been no formal response from the National Transitional Council, but one of its representatives has previously suggested that any decision on al-Megrahi's future would have to wait for an elected government in Libya. On the NTC's own timetable that would be almost two years away.
British officials say the decision to release al-Megrahi was made by the judicial authorities in Scotland and the U.K. government cannot intervene.
The Scottish government continues to defend al-Megrahi's release, saying it was made in good faith and was based on the best medical advice at the time. The U.S. government was strongly critical of the decision at the time, and has remained so.
British Prime Minister David Cameron has in the past criticized al-Megrahi's release as a "terrible mistake." His deputy, Nick Clegg, said recently that he would like to see him "back in jail behind bars. That's where he belongs." But both men acknowledge the serious legal complexities that would make it difficult to secure his return to Scotland.
"Megrahi was convicted in a Scottish court under Scottish law,'' a Foreign Office spokesman told CNN."He could be returned under the terms of his release, but this is matter for the relevant judicial authorities and it is not something that the British government can interfere with.''
The Scottish authority responsible for ensuring al-Megrahi abides by the terms of his release says it has been able to maintain contact with him during the recent conflict, "and he continues to abide by the terms of his release license."
Scottish media quote the East Renfrewshire local authority, which has jurisdiction over his case, as saying that it is trying to find out where al-Megrahi now is. He is obliged to notify the authority if he changes address.
Any attempt by the United States to have al-Megrahi extradited would face substantial hurdles. The first and most obvious is that his current whereabouts are uncertain amid a chaotic situation in Tripoli. In addition the NTC would likely suggest that it has more pressing concerns than finding him -- and it might also be reluctant to be seen doing America's bidding.
Dean Boyd, spokesman for the National Security Division at the Justice Department, also notes that the U.S. has no extradition treaty with Libya and that at present there is no functioning government.
However, there remains a pending indictment against al-Megrahi and others in federal district court and the Justice Department says it remains committed to prosecuting anyone involved in the Lockerbie bombing, which remains an open investigation.
Along with several others, al-Megrahi was indicted in 1991 by a grand jury, which alleged that he and others "did unlawfully, willfully and knowingly, conspire, combine and agree together and with others to commit terrorist acts" against the U.S. and its citizens.
An official at the Justice Department said the indictment was not superseded by al-Megrahi's conviction by a court of three Scottish judges established in the Hague to try him and an alleged co-conspirator.
Even so, legal sources say the possibility of al-Megrahi being flown to the U.S. at the behest of the rebel leadership is remote. One option, according to one diplomat familiar with the case, would be some form of detention for al-Megrahi in Libya. Given his close association with the Gadhafi regime, that might even be a form of protection, the diplomat said.