STORY HIGHLIGHTS
"All agreed on the importance of a smooth transition," Ban says
Lines of rusting jets are found at Gadhafi's private airport
There's fierce fighting around Sirte, Gadhafi's hometown
African Union council fails to recognize National Transitional Council
Tripoli, Libya (CNN) -- As fighting continued Friday in much of Libya, regional organizations underscored the need to plan carefully and move quickly to speed the transition from crisis to democracy.
In New York, U.N. Secretary-General Ban Ki-moon said he had talked with heads of the organizations, which included the League of Arab States, the Organization of Islamic Cooperation, the African Union and the European Union.
"All agreed that the crisis in Libya has entered a new and decisive phase," he said. "All agreed, as well, on the importance of a smooth transition."
That transition must be based on inclusiveness, reconciliation and national unity, he said.
"Fighting goes on in many parts of the country," Ban said. "There is an urgent need to put an end to the conflict and restore order and stability. All agreed that, if the Libyan authorities request, we should be prepared to help develop police capacity, bearing in mind that the country is awash with small arms."

Imprisoned under the Gadhafi regime

Gadhafi: Women, kids fight for me

Rebels claim to have Gadhafi surrounded

Global response to Libya conflict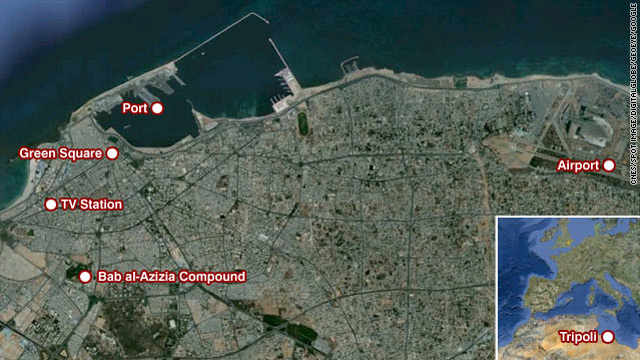 Map: Tripoli hot spots
The effect of the fighting has been profound, he said. "There are widespread shortages of fuel, food and medical supplies. Reports on the ground suggest that the water supply to the capital and surrounding region may be in danger, putting several million people or more at risk."
Friday's meeting participants agreed that the international community "must come together with an effective, well-coordinated program of action," Ban said.
Over the longer term, they emphasized early support for elections, transitional justice and policing, and help in social-economic recovery, rule of law and institution-building, Ban added.
He called Thursday's action by the Security Council in unfreezing $1.5 billion in Libyan assets "a welcome step" but said Friday's participants agreed that more must be done to ensure a stable transition of power.
Despite the continuing fighting, Moammar Gadhafi's grip on power has slipped, said Principal Deputy Press Secretary Josh Earnest, on Martha's Vineyard with the vacationing President Barack Obama.
"It is evident that there is momentum on the side of the rebels as they continue to make advances and as they continue in their efforts to set up a new government in Libya," he said.
Asked about the whereabouts of Libyan leader Gadhafi, he said, "Right now, as I've been saying the past few days, right now there is no evidence to indicate that Gadhafi has left Libya."
Earnest called on Gadhafi "to relinquish power once and for all," turn himself in and be held accountable.
The comments came as opposition and NATO forces took aim Friday at the Gadhafi regime in Tripoli and Sirte as rebels worked to consolidate their power across the country.
British warplanes pounded a "large headquarters bunker" overnight in Gadhafi's hometown of Sirte, the UK Defence Ministry said. Tornado aircraft fired a salvo of precision-guided missiles into the city, which is east of Tripoli on the central coast.
Outside one Tripoli hospital, the smell of disinfectant was overwhelmed by the smell of rotting human flesh. Inside, dozens of bodies lay abandoned in a room. In other rooms lay more. Some were wearing military boots, some dressed in fatigues, some in civilian clothes. One man was overwhelmed with joy to discover his son among the wounded inside the hospital. But his joy was tempered by the fact that the son's wound -- a bullet to the chest -- could still prove fatal.
In the heart of the capital, rebels began exploring the vast network of tunnels that run underneath Gadhafi's Bab al-Aziziya compound and much of the rest of the city. The thick-walled hallways -- wide enough for three people to walk abreast -- appeared to have been built to protect their occupants from bombing. But NATO's assault on the leader's compound was visible in one part of the tunnel, from which the sky was visible through a hole dug out by a bomb. Elsewhere in the bunker was a professionally equipped television studio.
There is an urgent need to put an end to the conflict and restore order and stability.
--Ban Ki-moon
Other previously hidden areas were opened to public view. In Tripoli, a former U.S. airbase converted by Gadhafi into a military airport showed graphically that the longtime leader's military had begun to decay long before rebels picked up their guns against him in February: Long lines of helicopters and dust-laden jets once worth millions of dollars apiece sat rusting on the tarmac. This is also where Gadhafi parked his private jets. A tree sprouted from part of one runway.
The opposition said its forces made gains late Thursday as it closed in on Sirte, and clashes flared Friday in that region, considered by fighters as a hot war zone.
On Thursday, Tornado aircraft destroyed one of Gadhafi's few remaining long-range surface-to-air missile systems, near Al Watiyah, close to the Tunisian border, the ministry said.
The ministry said Tornadoes and Typhoons destroyed a loyalist-held command-and-control site in the Tripoli area, also on Thursday. Britain is a participant in NATO's mission to enforce a U.N. Security Council resolution calling for the protection of Libyan people against Gadhafi regime forces.
As for the airport, rebels said they controlled the facility but were struggling to secure an area east of it controlled by Gadhafi loyalists.
The rebels said Gadhafi loyalists were indiscriminately shelling the airport from a civilian village east of the facility in an effort to repel the advance of rebel forces. Rebels said they were cautious in their response to the incoming fire because of concern over civilian casualties.
An aircraft burned as loyalists resumed shelling the airport with mortars and Grad rockets, a CNN team that witnessed the attack said.
A 17-year-old rebel said he hates war but feels forced to fight until the war ends. At that point, "I'm going to see my mother. I'm going to see my family," said Louis al-Zinatni. "I'm going to remove this gun from my hands. It's not for me."
The reports of continuing fighting came amid world concerns over revenge killings by rebels and loyalists.
Amnesty International has gathered accounts from survivors of abuse in Zawiya by pro-Gadhafi soldiers and rebel forces.
Amnesty said it also uncovered evidence that pro-Gadhafi forces killed detainees at two military camps in Tripoli on Tuesday and Wednesday.
Escaped detainees said loyalist forces had used grenades and gunfire on scores of prisoners at one camp, while guards at the other camp fatally shot five detainees. "Loyalist forces in Libya must immediately stop such killings of captives, and both sides must commit to ensuring no harm comes to prisoners in their custody," Amnesty International said.
The InternationalCriminal Court has issued an arrest warrant for Gadhafi alleging crimes against humanity.
On the political front, the opposition National Transitional Council was moving its political base to Tripoli from its stronghold in Benghazi in eastern Libya.
Libya's rebel leadership on Friday pleaded with the United States and other countries to unfreeze more money, saying the funds are vital to establish peace and stability in the nation.
"Our friends throughout the world are talking about the procedures needed to bring back peace and stability," Mahmoud Jibril, a senior National TransitionalCouncil leader, said at an international conference in Turkey. "But we cannot do that unless we can fulfill our duties."
Though the National Transitional Council has been recognized by 57 nations as the legitimate representative of the Libyan people, the Peace and Security Council of the African Union failed to follow suit at a meeting Friday.
Nevertheless, the council issued a communique that urged the "formation of an inclusive transitional government."
It called for the "establishment of a constitutional and legislative framework for the democratic transformation of Libya, as well as for support towards the organization of elections and the national reconciliation process."
In Washington, a U.S. deputy assistant secretary of state, Aaron Snipe, said he was pleased that 20 countries on the African continent have recognized the National Transitional Council.
"The international community has come out very much in one voice to support the aims and the purposes of the Libyan people," he said.
CNN's Nic Robertson, Dan Rivers, Sara Sidner, Arwa Damon, Raja Razek, Jomana Karadsheh, Hada Messia, Barbara Starr, Chelsea J. Carter and Pam Benson contributed to this report.
FOLLOW THIS TOPIC