STORY HIGHLIGHTS
NEW: Celebrants converge on Martyrs Square, chanting "Libya will always be free"
A U.N. team has arrived in Libya to re-establish the organization's presence there
The team will try to secure a reliable source of water
The World Food Programme has distributed 600 metric tons of food for 35,500 people for a month
Tripoli, Libya (CNN) -- A U.N. team was on the ground in Libya to re-establish the organization's presence there amid dire water, food and fuel shortages, the United Nations said Friday.
The U.N. humanitarian coordinator for Libya, Panos Moumtzis, arrived in Tripoli with a team of U.N. officials who hope to assess and address problems with food and water in the war-torn country.
"The humanitarian situation remains fragile," Moumtzis said in a statement. "It is critical to ensure an immediate and effective U.N. presence on the ground to help identify and assist vulnerable people who have been particularly affected by the conflict and the disruption of services."
The U.N. delegation, which arrived in Libya on Thursday, will assess and assist with water shortages, explore ways to protect civilians and investigate food shortages.
Working with the National Transitional Council, which is functioning as an interim government, UNICEF hopes to find and distribute bottled water to 500,000 people, the U.N. statement said. The World Food Programme has sent about 600 metric tons of food to help 35,500 people for one month, the statement said.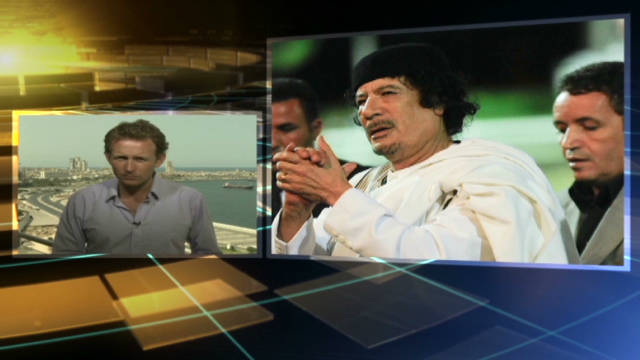 Gadhafi: Libyan capital moved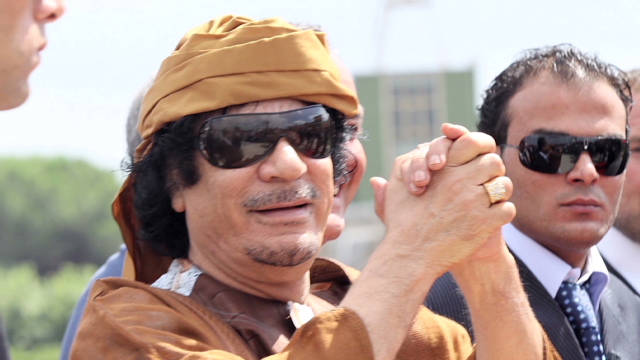 Gadhafi urges loyalists to fight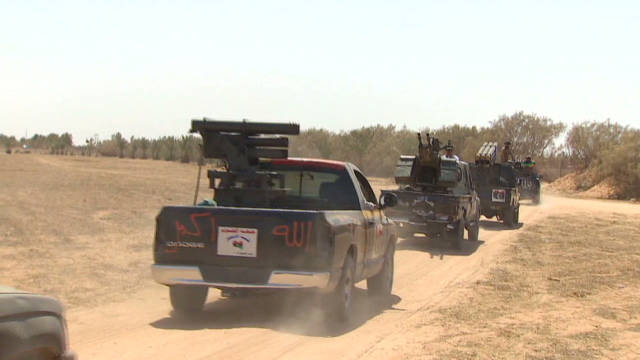 CNN shadows Libyan rebels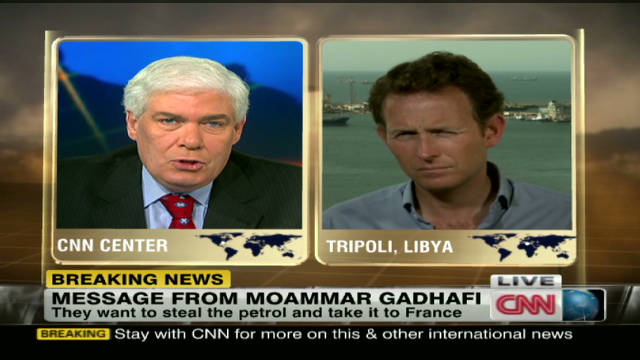 Moammar Gadhafi's new message
To help alleviate gas shortages, the World Food Programme also is procuring 250,000 metric tons of gas to "cover immediate life-saving humanitarian needs for one month."
Aid workers in Tripoli are scrambling to address a water shortage that the United Nations has estimated affects 60% of Tripoli, a city of 1.6 million people. Ships have started arriving carrying hefty loads of bottled water; aid workers now have to figure out how to distribute them.
Long lines for gasoline, meanwhile, snaked around Tripoli neighborhoods as people waited for hours to refuel their cars, war's irony in an oil-rich nation like Libya.
Libyans must engage in recovery after six months of war amid fresh discoveries each day stemming from Moammar Gadhafi's iron-fisted rule.
On Friday, celebrants converged in what is now known as Martyrs Square in central Tripoli to mark Gadhafi's fall and to show support for the rebels. Many of the celebrants were women.
"I am so happy. I cannot express my happiness. People smile at each other, greet each other. I have not seen like this moment in my entire life," Salam Elamin said.
People chanted, "Libya will always be free," and carried the country's new flag.
A defiant Gadhafi, meanwhile, remains at large, and his loyalist fighters could still mount fierce battles.
Even so, Elamin Belhaj, a member of Libya's National Transitional Council, said elections are planned for eight months away to choose members of a national congress who will replace the transitional council.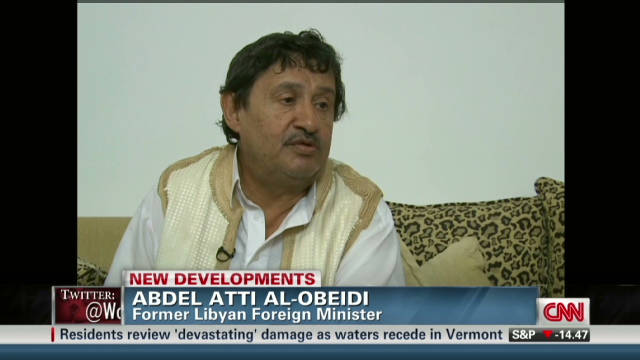 Gadhafi foreign minister surrenders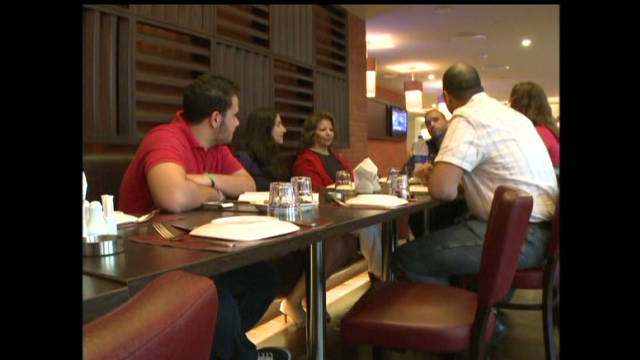 Time to return to Libya?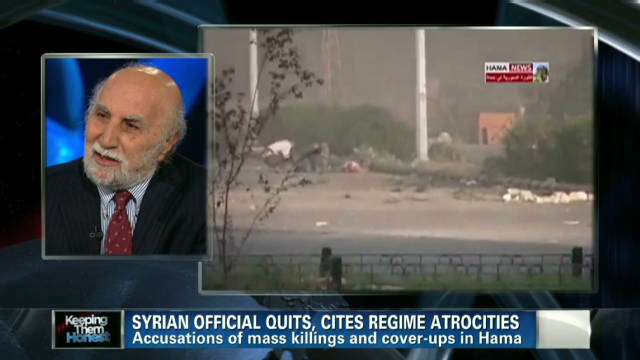 Syrian official quits, claims atrocities

Mapping out Libya's future
That congress will form a committee to craft a new constitution within three months, which would then be put to the Libyan people for a vote within a month, Belhaj said.
That would be followed by the forming of a political system, with parliamentary and presidential elections to follow within six months. It would probably take three to six months more to form a government, he said.
Western diplomats involved in dialogue with Libya's new leadership say the political plans are ambitious and may not be achievable in that time frame, given that the civil war cannot even be declared over as yet.
After decades of being hidden from public view, meanwhile, a treasure trove of documents is now open to the bereaved, the angry and the curious.
Until last week, only a privileged few could enter the complex of buildings in Tripoli where military intelligence was based. In one, shredded papers covered the floor on Wednesday, but file cabinets still held plenty of legible files on the practices of Gadhafi's police state.
Also surfacing are the dark secrets of the notorious Abu Salim prison, where a 1996 massacre killed 1,200 prisoners. One file titled "The Groups of Stray Dogs" contains the names of political activists, many of whom were detained decades ago.
Human rights groups have urged the National Transitional Council leadership to be wary of people's anger leading to retribution killings and to ensure a rule of law as Libya enters a new chapter.
That is one among many challenges the new leadership faces. In the immediate future, it said, it is negotiating with tribal elders in Gadhafi strongholds to arrange a surrender, so that further bloodshed can be avoided.
But the former Libyan leader sounded as fiery as ever in audio messages, urging his fighters not to lay down their arms.
"We are ready for a long, drawn-out war," said Syrian television Al-Rai's broadcast of a message from a man purported to be Gadhafi.
He said he has moved the Libyan capital to his native Sirte, where anti-Gadhafi forces were waiting on the outskirts for orders to attack.
The message warned that Gadhafi's fighters in Sirte were heavily armed and prepared to fight to the death.
Anti-Gadhafi forces on the outskirts of Sirte and Bani Walid have cut off supplies into the cities and amassed weaponry for heavy battle.
Anti-Gadhafi forces hope to employ a tactic in Bani Walid -- home to a powerful tribe that is sympathetic to Gadhafi -- similar to one used in their successful advance on Tripoli, calling on their "revolutionaries" inside the city to rise up and fight, a military commander told CNN.
Gadhafi said his enemies were intent on confiscating Libyans' water supply and setting back efforts he had made during his 42 years in power.
"The Libyan people would rather die than be suppressed," he said. "This is something we will not allow the traitors to do -- let Libya be occupied and suppressed and humiliated."
The country's tribes are armed and not likely to bend to the will of foreigners, he said. "You cannot rule them," he said. "Even if you attack them by aircraft, armed tribes will not surrender."
Gadhafi has not been seen publicly since Tripoli fell, though a transitional council fighter reported seeing the ousted leader in the southern part of the capital later.
Questions about Gadhafi's whereabouts intensified in recent days following reports that his wife, daughter, two sons and other family members fled to neighboring Algeria, which described its acceptance of the family as a humanitarian gesture.
Algeria has denied that the country was ever an option for Gadhafi.
CNN's Nic Robertson, Mohammed Tawfeeq, Dan Rivers, Arwa Damon, Frederik Pleitgen and Elise Labott contributed to this report.
FOLLOW THIS TOPIC