STORY HIGHLIGHTS
The cooperation emerged after Libya ended its WMD program
There was an exchange of information between the agencies
Renditions occurred amid concern over reports of Libyan torture
U.S. official says this needs to be kept "in context"
Tripoli, Libya (CNN) -- Documents seized at the Libyan intelligence headquarters have revealed a surprisingly close relationship between the CIA and their counterparts in the Gadhafi regime.
They highlight the cooperation between Libya and Western intelligence agencies after Libya ended its weapons of mass destruction program in 2004. They also shed light on the West's controversial rendition program -- the questioning of terror suspects in third-party countries.
CNN saw documents in the former office of Libya's external security agency and received material from Human Rights Watch on Saturday. They are from 2004 and 2005.
CNN found an exchange of information between Libyan intelligence and Western intelligence agencies -- such as the CIA, the MI6 in Britain and Canada's intelligence service.
For example, the Libyans were interested to learn about alleged Islamic radicals involved in anti-Gadhafi activity in Canada, the United States and Europe. The United States and Britain were interested in any detail Libya could provide about al Qaeda.
One piece of correspondence focused on the prospect of Libya providing help to the United States in Somalia, where anti-American militants have a strong presence. There was contact between Porter Goss, who served as CIA director in the mid-2000s, and former head of external intelligence Moussa Koussa.
"Moussa Koussa was on a first-name basis with the CIA and MI6," said Peter Bouckaert of Human Rights Watch. "There's Christmas greetings in here. There's documents saying, 'Thanks for the oranges you sent.'"
CNN's attempts to reach Goss on Saturday were unsuccessful.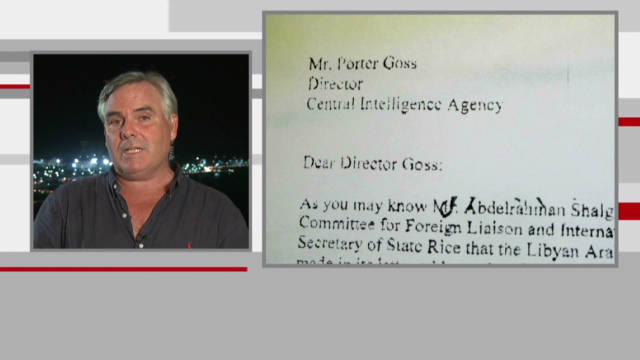 Secret documents found in Libya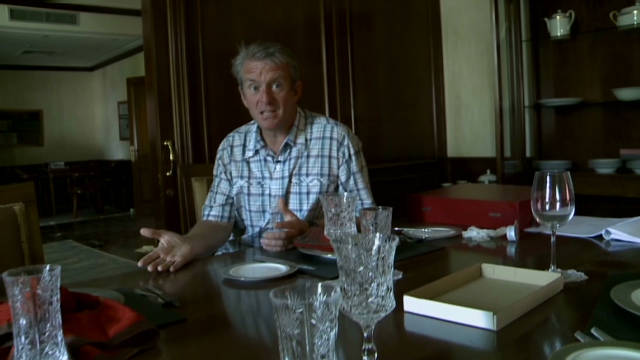 Inside Saadi Gadhafi's office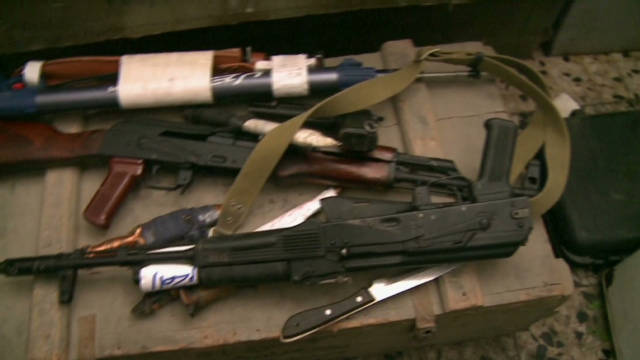 Tripoli awash with weapons
Reports of cases of U.S. rendition to Libya have emerged. It occurred amid regular State Department reports of Libyan abuse of prisoners, underscoring concerns of human rights advocates about the practice.
For example, the State Department's 2005 report on human rights in Libya said, "Security forces reportedly subjected detainees to cruel, inhumane, or degrading conditions and denied adequate medical care, which led to several deaths in custody."
One report, in The New York Times, said documents suggested that the United States "sent terror suspects at least eight times for questioning in Libya despite that country's reputation for torture." The newspaper said the documents cover 2002 to 2007, "with many of them concentrated in late 2003 and 2004."
Bouckaert told CNN the documents "establish conclusively what we've been saying for a long time -- that the CIA was capturing and rendering people to Libya so they could be interrogated by Libyan security."
"We even have the CIA questions they sent to be asked to the suspects that they rendered to Libya," he added.
And CNN saw a March 6, 2004, CIA letter to Libyan officials about Abdel Hakim Belhaj, a former jihadist with the Libyan Islamic Fighting Group and now a senior commander in the anti-Gadhafi forces.
It concerned the Malaysian government's arrest of Abdullah al-Sadiq, Belhaj's nom de guerre for his rendition. A CIA officer said the man and his pregnant wife were being placed on a commercial flight from Kuala Lumpur, Malaysia, to London via Bangkok and then onto Libya.
"We are planning to arrange to take control of the pair in Bangkok and place them on our aircraft for a flight to your country," the officer wrote.
CNN's Nic Robertson recently profiled Belhaj. As a young man in the late 1980s, Belhaj was one of scores of jihadists in the Libyan Islamic Fighting Group who went to fight in Afghanistan. His military prowess soon made him a commander among his fellow fighters.
After the fall of the Taliban, Belhaj left Afghanistan and was arrested in Malaysia in 2004. After some questioning by the CIA, he was sent back to Libya and jailed.
Belhaj was released from Moammar Gadhafi's notorious Abu Salim jail last year. He and dozens of others of LIFG fighters negotiated with the Gadhafi regime for their freedom -- in return for denouncing al Qaeda and its philosophy of jihad.
Fran Townsend, CNN counterterror analyst who worked as President George W. Bush's homeland security adviser, said that when suspects were transferred to any country, not just Libya, U.S. officials asked the government for assurances that they wouldn't violate human rights of the person in question.
Also, they would oversee the process of incarceration and questioning to make sure the prisoner wasn't abused, she said.
"It wasn't just sign a piece of paper. It was also, by the way we have to have the right to visit them on short notice and speak with them," she said, referring to the suspects.
Townsend said the MI6 and the CIA worked very closely with Libyan intelligence in terms of persuading them to turn over their weapons of mass destruction program and to maintain a relationship with them.
The relationship, she said, was "by no means a straight line. It had its ups and downs."
The CIA would not comment specifically on the reports about the relationships between Libya and Western spy agencies.
But CIA spokeswoman Jennifer Youngblood did say, "It can't come as a surprise that the Central Intelligence Agency works with foreign governments to help protect our country from terrorism and other deadly threats. That is exactly what we are expected to do."
A U.S. official who would not speak for attribution because of the sensitivity of intelligence relationships said, "There are lots of countries willing to take terrorists off the street who want to kill Americans. That doesn't mean U.S. concerns about human rights are ignored in the process."
The official added this needs to be kept "in context."
"By 2004, the U.S. had successfully convinced the Libyan government to renounce its nuclear weapons program and to help stop terrorists who were actively targeting Americans in the U.S. and abroad," said the official.
The British Foreign Office said it does not comment on intelligence matters.
CNN's Pam Benson and Joe Sterling contributed to this report.
FOLLOW THIS TOPIC