U.N.: 750,000 people in Somalia face 'imminent starvation'
STORY HIGHLIGHTS
A record 4 million people need humanitarian aid
That figure is up from 2.4 million eight months ago
Famine spreads to the Bay region and is expected to expand further
Somalia is battling its worst drought in 60 years
(CNN) -- A record 4 million people in Somalia need humanitarian aid and 750,000 people are in danger of "imminent starvation," the United Nations said on Monday.
Famine in the African nation has spread to the Bay region, which is now the sixth area in Somalia suffering from an acute shortage of food, according to the the U.N.'s Food Security and Nutrition Analysis Unit (FSNAU) and the Famine Early Warning Systems Network.
Officials are calling for a surge in response efforts as the crisis is predicted to get worse.
"With the current food security outcomes famine conditions are expected to spread to agro pastoral populations in Gedo, Hiran, Middle Shabelle and Juba regions and riverine populations of Juba and Gedo in the coming 4 months," Grainne Moloney, FSNAU's chief technical advisor, said in a statement announcing the latest survey results.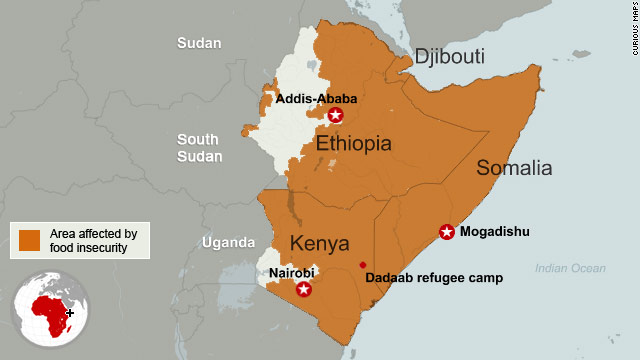 East Africa Crisis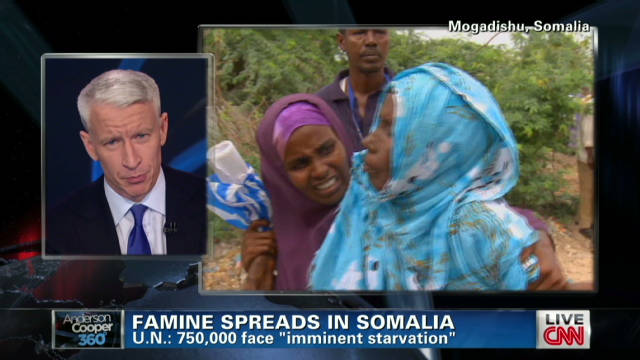 Famine continues to spread in Somalia
Of the 4 million people in need of emergency aid, 3 million are in the south. That figure is up from 2.4 million eight months ago.
Tens of thousands of people have already died, more than half of whom are children, according to the FSNAU, which is managed by the U.N.'s Food and Agriculture Organization (FAO).
The famine is being stoked by Somalia's worst drought in 60 years. Somalia has not had a stable government since 1991, and fighting between the rebels and government troops has escalated the humanitarian crisis in the famine-ravaged country.
"Though these figures paint a bleak picture as the worst agricultural crisis for Somalia in recent times ... there is a window of opportunity for the humanitarian community to stop and reverse this dramatic trend by supporting farmers and herders in addition to other emergency interventions," said Luca Alinovi, FAO's officer in charge for Somalia.
FOLLOW THIS TOPIC


Part of complete coverage on

Images of Ethiopia's leafy vegetation may not match everyone's idea of a drought, but millions in the country are going hungry.

A campaign to raise funds has galvanized the nation, as families battle a devastating drought.

The U.N. World Food Program's executive director says ending chronic hunger is within our power.

As the Horn of Africa struggles to deal with drought, rising food prices are adding to growing hunger in Kenya.

Doctors are struggling to save lives and cope with death at the Dadaab refugee camp.

Primary schools providing free lunchtime meals operate as "life-saving centers."

Long-term drought, conflict, poor harvests and rising food and fuel prices have combined to create a growing crisis.


Today's five most popular stories