STORY HIGHLIGHTS
NEW: The trial against ousted leader Hosni Mubarak is adjourned till Sunday
Mubarak is charged with ordering the killing of protesters
Top officials are set to testify next week behind closed doors
Cairo (CNN) -- A former Egyptian interior minister and his aides ordered the killings of anti-government protesters in the days before Hosni Mubarak was overthrown, according to testimony from an Egyptian security official, an attorney told CNN on Thursday.
The allegation comes during the trial of Mubarak, now adjourned till Sunday. The former Egyptian leader is charged with ordering the killing of protesters to quash the uprising in February that ultimately ended his 30-year rule. In addition to accusations of ordering the killing of protesters, Mubarak faces corruption charges. He has pleaded not guilty to the charges.
Maj. Esam Shawky, who works in the administrative department in charge of anti-riot security forces, testified Thursday that Habib el-Adly and his aides ordered the killings and gave the order to cut Internet services on January 28 amid the unrest, lawyer Khaled Abou Bakr said.
Bakr, who is attending the trial, is suing Mubarak on behalf of a victim who was shot and injured during protests.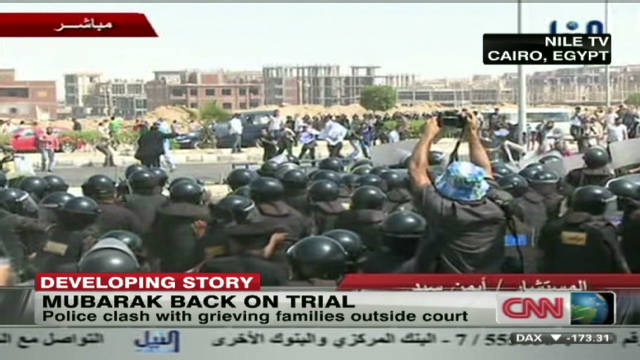 Clashes erupt outside Mubarak court

Mubarak trial won't be televised

Protester's family demands Egypt action

Ex-Egypt Interior minister trial delay
He said Shawky also told the court that he instructed the country's general prosecutor to save voice recordings between el-Adly and his assistants before they were destroyed.
The assertions were based on a January 27 meeting between el-Adly and his aides. Mubarak, asked by the judge if he had any reaction, had no comment. El-Adly disputed the testimony and said minutes of the meeting show discussions revolved around containing the protests, not dispersing them.
Another witness, Gen. Hussein Abdel Hamid, attended the meeting and testified that he objected to el-Adly's orders of arming the security forces and implementing a plan to "handle the protesters at any cost." Hamid said he was transferred to the Cairo security headquarters to take a course on "the art of dispersing protesters."
Earlier this week, clashes erupted outside the courtroom between security forces and families of those killed in this year's uprisings. But Thursday, there were only a handful of victims' families and no sign of Mubarak supporters.
Top Egyptian figures will be testifying next week behind closed doors in the trial. The prosecutor general banned media from reporting testimony that may emerge from those sessions because of "national security matters."
Field Marshal Mohamed Hussein Tantawi, head of the Supreme Council of the Armed Forces, is set to appear Sunday, and Gen. Sami Anan, Armed Forces chief of staff, will go before the court Monday.
The former vice president and head of Egyptian intelligence, Omar Suleiman, is scheduled to testify Tuesday.
Interior Minister Mansour Essawy will appear Wednesday, and his predecessor, Mahmoud Wagdy, is set to testify the following day.
About 840 people died and more than 6,000 were wounded in the 18 days of uprising that toppled Mubarak, according to Amnesty International.
Mubarak is the first leader toppled in this year's Arab Spring revolts to face a judge. Tunisian President Zine El Abidine Ben Ali was tried in absentia after he was deposed in January and fled to Saudi Arabia.
The trial is expected to last at least six months to a year, according to Adel Saeed, a spokesman for the general prosecutor.
FOLLOW THIS TOPIC