Woman arrested for Guatemalan bus bombing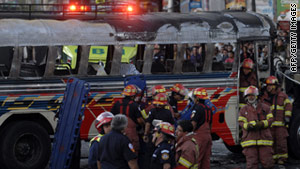 Sonia Veliz was arrested in connection with a bus bombing in Guatemala City on Monday that killed seven and injured 16.
STORY HIGHLIGHTS
Sonia Veliz was arrested Tuesday
She is a member of the Mara 18 gang
Authorities allege she put the bomb on the bus
Seven people died and 16 were injured
Guatemala City, Guatemala (CNN) -- A female gang member was arrested in connection with the bombing of a bus in Guatemala City that left seven dead, authorities said.
Sonia Veliz, a member of the Mara 18 street gang, was identified through a composite sketch police made based on statements from a witness, said Ronnie Lopez, prosecutor for organized crime.
Witnesses had said that a woman had boarded the bus, left her bag on the luggage rack, and exited before the blast on Monday.
Lopez said Tuesday that Veliz was the main perpetrator of the bombing. He said the attack was carried out at the request of the leader of the gang, who ordered the act from prison.
The gang controls the area where the bus operated, and allegedly attacked it because the bus drivers refused to pay extortion money to the gang.