Death toll from flooding in Brazil continues to climb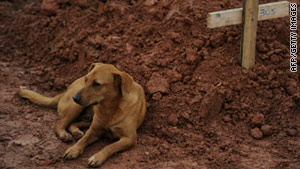 STORY HIGHLIGHTS
Report: At least 827 people were killed after flooding and massive mudslides
NASA releases images that show the extent of the damage
Officials say that 25,000 people were forced out of their homes
(CNN) -- Devastating floods in Brazil's Rio de Janeiro state have killed at least 827 people, the state-run Agencia Brasil news agency reported Tuesday.
The city of Nova Friburgo was the hardest hit, with at least 399 victims, the agency said, citing civil police. Teresopolis was also devastated, with reports of 335 people dead, it said.
CNN affiliate TV Record showed images of construction equipment in Teresopolis, moving massive mounds of dirt and rock and filling a nearby valley with trash.
Also Tuesday, NASA released images it took recently of the mountainous region northeast of Rio de Janeiro. It posted those images on its website next to ones taken by the same instrument in 2003 to show the extent of the damage.
The flooding, caused by days of torrential rains, left about 25,000 people homeless, Agencia Brasil reported, citing health and civil defence officials. Of those, roughly 13,000 might be able to return to their homes once the situation improves, but the rest will need to find new places to live, it said.
Other states in the South American country have also seen he
avy rainfall. This month, authorities in neighboring Sao Paulo state said that flooding had killed 24 people.
CNN's Marilia Brocchetto contributed to this report.