14 die in 48 hours in Juarez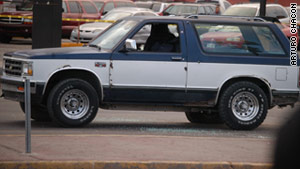 Armed gunmen killed Officer Ciro Puga Cruz while his car was stopped at a red light.
STORY HIGHLIGHTS
Police: A newspaper vendor is targeted by an area gang in turf war
A police officer is killed at a crowded intersection
More than 100 police officers were killed last year, Sanchez says
(CNN) -- At least 14 people were killed in 48 hours in Ciudad Juarez, Mexico, including the Tuesday deaths of a municipal police officer and a newspaper vendor who police believe was targeted because of her job.
In a statement Tuesday, federal police said they believed the female newspaper vendor was targeted by an area gang because she was seen as a threat to the gang's control of street vendors.
"La Linea thought she was discriminating against newspaper vendors they were extorting," municipal police spokesman Adrian Sanchez said.
The woman, identified as Maribel Hernandez, distributed the El Diario de Juarez newspaper, the most widely circulated paper in the city.

Witness to violence: Juarez, Mexico
Police said they had arrested a suspect who told them he was paid about $250 for the killing.
Also Tuesday, municipal police officer Ciro Puga Cruz, 39, was killed after armed gunmen shot him 15 times at a crowded intersection while his car stopped at a red light.
The killing happened in front of dozens of people and caused panic, said journalist Arturo Chacon who was at the scene.
The brazen shooting occurred after the officer left the police station at the end of his shift, Sanchez said.
The shooters fled the scene and are still at large, police said.
More than 100 police officers were killed in 2010, 67 of which were municipal, according to Sanchez.
FOLLOW THIS TOPIC