France to search again for downed jet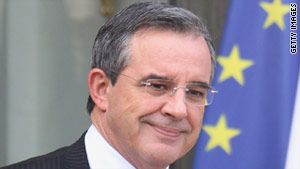 Thierry Mariani said the search for the wreckage of Air France Flight 447 will begin March 18 and end July 8.
STORY HIGHLIGHTS
The crash killed 228 people
Three previous searches have not found wreckage on the ocean's floor
A fourth search is to begin next month
Paris (CNN) -- Search crews plan to look for a fourth time for the wreckage of Air France Flight 447, which crashed into the southern Atlantic Ocean two years ago.
The search will begin March 18 and will end July 8, said Thierry Mariani, secretary of state for transport.
The new search for debris from the Airbus A330-200 will use state-of-the art underwater robots and submarines.
"I think there is the technology to really examine the accident and then, of course, we expect if there have been mistakes made, be it by Air France, be it by authorities or by Airbus, then we hope to find those people responsible for it," said Dr. Bernd Gans, president of an association for relatives of the victims.
The area to be explored encompasses about 3,900 square miles (10, 000 square kilometers). Airbus SAS and Air France will pay for the search, which will cost 10 million euros.
Three previous searches have found no debris on the ocean's floor. About 50 bodies and some pieces of debris were recovered on the ocean's surface in the days after the crash on June 1, 2009.
Investigators have not yet established what caused the plane to crash as it flew from Rio de Janeiro to Paris, killing 228 people.
FOLLOW THIS TOPIC