Mother of dead Cuban hunger striker detained, family says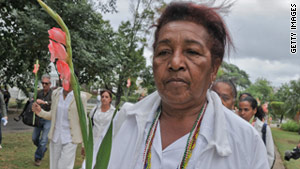 On February 13, Reina Luisa Tamayo marches in honor of her son as part of a group called Ladies in White.
STORY HIGHLIGHTS
The arrest of Reina Luisa Tamayo comes days before the anniversary of her son's death
Family says she and her husband were "badly beaten"
Orlando Zapata Tamayo died after fasting 80-plus days in prison
Havana, Cuba (CNN) -- The mother of a Cuban political prisoner who died after a prolonged hunger strike a year ago has been detained ahead of the first anniversary of his death, according to family.
Reina Luisa Tamayo, mother of Orlando Zapata Tamayo, was detained along with her husband and a third dissident in the eastern city of Banes on Friday morning, according to another family member, who said they were "badly beaten."
"They were on their way to the center of town," Jose Luis Ortiz Tamayo told CNN, adding that local officials told him that they were arrested because Reina Luisa Tamayo had offended a policeman.
Zapata died on February 23 after fasting for more than 80 days to demand better conditions for political prisoners. His death set off a chain of events that has culminated in Cuba's biggest release of political prisoners in more than a decade.
The Cuban government considers the dissidents "mercenaries" paid by the United States to try to destabilize the island. But in the face of international pressure, President Raul Castro reached an agreement last summer with the Catholic Church and Spain to free 52 political prisoners arrested during a crackdown in 2003.
Zapata's mother has become an outspoken critic of the government, staging very public protests and accusing Castro of "assassinating" her son.
She and other dissidents have been expected to organize marches over the next week to mark the anniversary of Zapata's death.
FOLLOW THIS TOPIC