President to send more troops to northeastern Mexico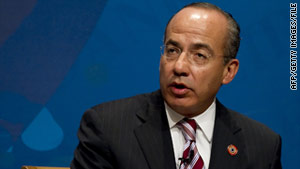 President Felipe Calderon said the troop increases are needed to fight the drug gangs' "criminality and their lack of scruples."
STORY HIGHLIGHTS
Calderon says the Army will send four battalions of troops to fight drug traffickers
The news comes at the end of a bloody week of violence in the region
More than 34,550 have died in drug-related violence in Mexico since 2006, research shows
(CNN) -- Mexican President Felipe Calderon on Saturday ordered the Army to send four battalions of soldiers to the country's northern borderlands, the site of increasing violence fueled by the drug trade.
Since Monday alone, gunmen have killed a U.S. Immigrations and Customs Enforcement agent, a man and his 8-year-old son were shot and set on fire Ciudad Juarez, and 13 people died in gunfire in that same Mexican border city, which has been wracked by drug-related violence.
Speaking at a military base in Reynosa in celebration of Mexican Army Day, Calderon said the increases were necessary to fight the drug gangs' "criminality and their lack of scruples."
"And because of the irresponsible actions of these thugs I am announcing that I have given instructions to establish four additional battalions, in order to support with efficient elements, the work of the armed forces in these places," he said.
Calderon did not say when the troops would be moved into the region, how long they would stay or what their exact role would be.

Mexicans flee cartel violence
Calderon also said he has ordered upgrades to the Mexican Air Force's Hercules transport planes and promised to buy better weapons and bulletproof vests for troops in the field. He also said the Army battalions engaged in "high-risk operations" will receive armored trucks shown off during the Army Day celebration.
Drug-related violence has claimed more than 34,550 lives since 2006, when Calderon took office and declared war on drug traffickers, according to the Trans-Border Institute at the University of San Diego.
According to the institute, violence spiked last year in three northeastern states near the U.S. border, Nuevo Leon, Tamaulipas and San Luis Potosi, where the U.S. agents were attacked as they drove between Monterrey and Mexico City.
In that case, suspected members of a drug cartel bracketed the agents' SUV as they drove, forced it off the road and fired on the agents inside, according to Rep. Michael McCaul, R-Texas, who said he had been briefed on the incident by federal immigration officials.
Special Agent Jaime Zapata died in the attack, which is now being investigated by a joint U.S.-Mexican task force.
The agents were returning to Mexico City after meeting other U.S. personnel in San Luis Potosi, the Immigration and Customs Enforcement agency said.
CNN's Claudia Dominguez contributed to this report.