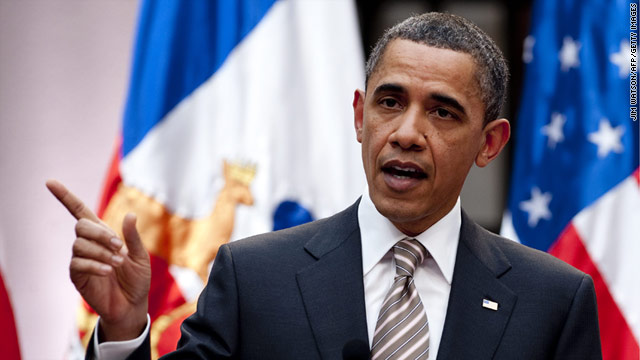 STORY HIGHLIGHTS
"We are all Americans," president says in a speech in Chile
Obama cites the region's shift from dictatorships to democratic governments
The president offers U.S. help in battling drug cartels, boosting education
Santiago, Chile (CNN) -- President Barack Obama called Monday for a new era of partnership between the United States and Latin America, acknowledging the region's increasing importance and stability that serve as a model for the world.
In a speech at La Moneda Palace, Obama announced new initiatives to increase the number of student exchanges between the United States and Latin America, and to expand the use of social media and online networks for education and scientific collaboration.
The region's history of transition from dictatorship and military coups to democratic governance can show the way for Middle Eastern countries facing similar challenges today, Obama said.
"With decades of experience, there's so much Latin America can share -- how to build political parties and organize free elections; how to ensure peaceful transfers of power and navigate the winding paths of reform and reconciliation; and, when the inevitable setbacks occur, you can remind people to never lose sight of those guiding stars of which Pablo Neruda spoke -- struggle, but also hope," Obama said, mentioning the Nobel Prize-winning Chilean poet.
Obama cited the advances and achievements of Latin America, noting the region is democratic, growing economically, addressing shared challenges and contributing to global security.
"For all these reasons, I believe that Latin America is more important to the prosperity and security of the United States than ever before," Obama said. "With no other region does the United States have so many connections. And nowhere do we see that more than in the tens of millions of Hispanic Americans across the United States, who enrich our society, grow our economy and strengthen our nation every day."
Most important, he said, were the shared values of the United States and Latin America, from their histories of colonists who fought for freedom from empires to a mutual dedication to democracy.
"We are all Americans," Obama said, adding in Spanish: "Todos somos Americanos."
However, he noted that poverty, crime gangs and other problems still plague too many in the region, and how political and economic power "is too often concentrated in the hands of the few, instead of serving the many."
In calling for a new partnership with Latin America, Obama said, "There are no senior partners and there are no junior partners; there are equal partners.
"But equal partnerships, in turn, demand a sense of shared responsibility" in confronting drug cartels and other security threats, Obama said.
He pledged U.S. help in cracking down on drug and weapons smuggling, and reiterated his commitment to immigration reform that "secures our borders, enforces our laws and addresses the millions of undocumented workers living in the shadows of the United States."
On human rights, Obama singled out Cuba as a regional government that needed to provide its people with the same freedoms enjoyed throughout the hemisphere.
Obama pledged to try to change acrimonious U.S. relations with Cuba, then added: "At the same time, Cuban authorities must take meaningful actions to respect the basic rights of the Cuban people -- not because the United States insists on it, but because the people of Cuba deserve it."