Bolivia ready to take Chile to court over sea access, president says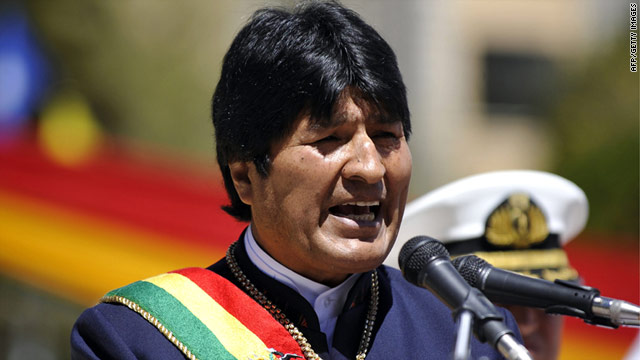 STORY HIGHLIGHTS
President Morales says Bolivia is ready to go before international courts to regain coastland
The country lost its coast in a war with Chile in 1879
A presidential spokeswoman says a lawsuit is not certain
(CNN) -- Bolivia is prepared to sue Chile in international court over its claim to a section of Pacific coast that it lost in a war more than 130 years ago, Bolivian President Evo Morales said Wednesday.
Landlocked Bolivia at one time had a piece of the Atacama Desert on the Pacific coast, but it lost it to Chile in 1879 as the result of being on the losing end of the War of the Pacific. Bolivia has always claimed a right to the coast, and the loss remains a fixture of the Bolivian psyche. Even today there is a "Day of the Sea" observance on the anniversary of the loss.
It was at the 132nd Day of the Sea that Morales said it is time to take the matter into the international arena.
"The fight for our maritime claim, which has marked our history for 132 years, now should include another fundamental element: to go before international tribunals and organizations, demanding in lawfulness and fairness a free and sovereign access to the Pacific Ocean," Morales said.
A Bolivian presidential spokeswoman told CNN that Morales' comments referred to the possibility of legal action, and was not a definite course of action.
Morales added that any legal recourse would not come at the expense of Bolivia's modern relationship with Chile.
"Bolivia is a dignified country looking forward with faith and hope for its future, without ever abandoning direct and frank dialogue with Chile," he said.
Bolivia declared war on Chile over nitrate deposits on what was then Bolivian territory, Peter Klaren, professor of history and international affairs at The George Washington University, told CNN. Bolivia had tried to raise taxes on the Chilean companies who were mining nitrates, but the companies refused, saying it violated earlier treaties, he said.
A series of escalations led to the War of the Pacific, which Peru was also drawn into because of a defense treaty with Bolivia. Chile conquered the coastal area, and while Peru was able to negotiate the return of some of its southern coast, Bolivia was left empty-handed, Klaren said.
"Bolivia was basically cut off from its access to the Pacific, and ever since then they have tried in one way or another to reverse this," he said. "It is an old wound that has never healed."