10 killed in bar shooting in Mexico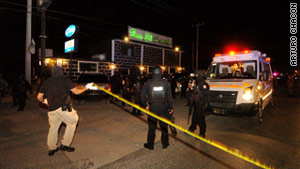 At least 26 bullet casings were found near a Juarez, Mexico, bar where 10 people were shot and killed Thursday.
STORY HIGHLIGHTS
The victims ranged in age from 18 to 55 years old
Four other people were killed in separate shootings in Ciudad Juarez
The violence comes as Juarez is trying to crack down on such killings
(CNN) -- Ten people were killed and another person was injured after a shooting at a bar late Thursday in Ciudad Juarez, Mexico, state prosecutors announced Friday.
The victims ranged in age from 18 to 55 years old, according to a press release sent out by state prosecutors' spokesman Arturo Sandoval.
Seven of the victims died at the bar while the other three died en route to the hospital or upon arriving.
At least 26 bullet casings were found at the scene from at least two different weapons, the release said. There was no motive given for the attack.
In all, 14 people were killed Thursday, Sandoval told CNN. The other four were killed in separate shootings throughout the city, he said in a phone interview.
The shootings come shortly after the Juarez installed a new police chief to crack down on violence.
Last month, Juarez Mayor Hector "Teto" Murguia named former Baja California state police chief Julian Leyzaola the new head of the local police department.
Leyzaola was credited with cleaning up Tijuana during his tenure there.
Violence in Juarez had leveled out in the weeks since his hiring. Thursday's shooting was among the bloodiest days since Leyzaola took office.
"What can I tell you? We've had an average of 5 killed a day in Juarez this year. Yesterday we had 14. That's all I can comment," Sandoval said.
Although Juarez had seen a drop in homicides over the last month, the state's capital city of Chihuahua saw an above average spat of violence.
On Tuesday, an investigator for the state police was killed alongside her 5-year-old daughter.
In March, several death threats were made against the state police, as well as ministerial investigators, purporting one would be killed each day.
During a one-week span, three investigators were killed, local journalist Arturo Chacon reported.