Ecuador says U.S. ambassador not welcome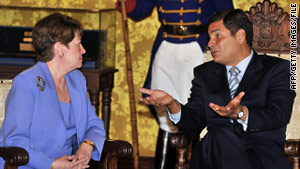 Ecuadorian President Rafael Correa talks with U.S. Ambassador Heather Hodges in Quito in October 2008.
STORY HIGHLIGHTS
The U.S. ambassador to Ecuador is asked to leave as soon as possible
The Ecuadorian government says it's upset over allegations in a leaked cable
WikiLeaks cable says U.S. diplomat alleged Ecuador leader aware of police corruption
U.S. State Department spokesman calls the expulsion "unjustified"
(CNN) -- The Ecuadorian government on Tuesday declared the U.S. ambassador in that country, Heather Hodges, persona non grata and asked her to leave as soon as possible, the state-run Andes news agency reported. The decision was based on a State Department cable made public by WikiLeaks, it said.
Ecuadorian Foreign Minister Ricardo Patino declined to call it an expulsion, though Hodges was effectively being kicked out of the country.
According to Patino, he met with Hodges over revelations in the leaked cable, which said Ecuadorian President Rafael Correa allegedly was aware of acts of corruption by the police high command.
Because the ambassador did not have a satisfactory response, the decision was made that she was not welcome in Ecuador, Patino said, according to Andes.
This act "is not against the government of the United States but against a diplomat who made serious statements," Patino said.
State Department spokesman Mark Toner said the expulsion was "unjustified."

101: WikiLeaks revealed
Patino said that during his meeting, he stressed to Hodges how upset the president was over the allegations, and she declined to respond, saying only that it was information stolen from the U.S. government, Andes reported.
The cable in question has not yet been posted on the WikiLeaks website but was made available to the Spanish newspaper El Pais, which published it online and first broke the news of the allegations.
According to the document available on the website of El Pais, the cable was seeking to revoke the travel visa of Jaime Hurtado, Correa's commanding general of the Ecuadorian National Police, or ENP, from 2008 to 2009.
The cable alleges that before Hurtado's ascension to the high post, the embassy had "multiple reports that indicate he used his positions to extort bribes, facilitate human trafficking, misappropriate public funds, obstruct investigations and prosecutions of corrupt colleagues, and engage in other corrupt acts for personal enrichment."
Describing the allegations against him, the cable makes a parenthetical note: "Hurtado's corrupt activities were so widely known within the upper ranks of the ENP that some Embassy officials believe that President Correa must have been aware of them when he made the appointment. These observers believe that Correa may have wanted to have an ENP Chief whom he could easily manipulate."
The Ecuadorian government has called the allegation that Correa knowingly promoted a corrupt officer to head the police "unacceptable, malicious and reckless."
FOLLOW THIS TOPIC


Part of complete coverage on

What next for WikiLeaks editor and founder Julian Assange, now that he's been released on bail in the UK?

Julian Assange says the sexual misconduct charges against him are little more than an effort to discredit him and his organization.

WikiLeaks editor walks out of London court after being freed on bail nine days after being arrested for questioning about alleged sex crimes in Sweden.

In 2006, Julian Assange was apparently looking for a date. After launching WikiLeaks, he evidently created a profile on OkCupid.com.

A court in London found itself in the world's spotlight, as a small army of celebrities turned up to offer support -- and bail money -- to Julian Assange.

The founders of Openleaks.org say they are former WikiLeaks members unhappy with the way the organization is being run under Julian Assange.

Hackers who support WikiLeaks want others to replicate the attacks they say took down the websites of MasterCard and Visa.

Does Julian Assange's threat to release "Doomsday Files" from Wikileaks carry validity?


Today's five most popular stories