U.S. warns of travel on Mexican buses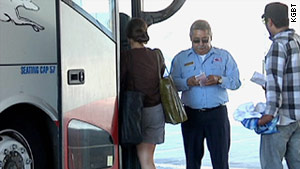 The consulate says buses are "increasingly being targeted by armed individuals for robbery and kidnapping."
STORY HIGHLIGHTS
There have been reports of robbery and kidnappings on Mexican buses
The cases have been reported in the state of Tamaulipas
One U.S. citizen was taken from a bus and remains missing, officials say
(CNN) -- Raids on buses by criminals in Mexico have led to the kidnapping of one American, the U.S. consulate in Matamoros, Mexico, said in a message warning of the dangers of bus travel there.
Matamoros is a border city across from Brownsville, Texas, and sits in Tamaulipas state, one of the most violent in Mexico.
The consulate had already issued a statement advising U.S. citizens of the potential hazards of driving on highways in Tamaulipas in November of last year, a message it reissued in January.
On Friday, the consulate issued a warden message warning of the potential threat of traveling on buses on the highways, which it says are "increasingly being targeted by armed individuals for robbery and kidnapping."
Consulate officials did not immediately respond to a CNN request for more details.
According to the U.S. officials, from late March to early April, the consulate received three reports from Americans regarding inter-city buses being boarded by criminals, according to the warden message.
"In at least one instance, male bus passengers, including an American citizen, were forcibly removed from those buses and have yet to be located," the message states. "The Consulate General strongly encourages those American citizens considering travel through Tamaulipas by bus, as well as by automobile, to keep these risks in mind."
Also over the weekend, the Mexican military uncovered four more mass graves in the Tamaulipas town of San Fernando. Officials said a total of 88 bodies have been recovered since the mass graves were discovered last week.
Investigators are working to determine if the bodies of those found match with reports of passengers kidnapped from buses.
FOLLOW THIS TOPIC