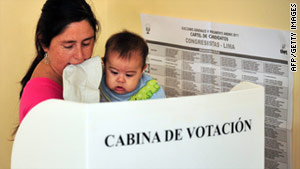 A woman with her toddler votes Sunday in Lima, Peru.
STORY HIGHLIGHTS
They are top vote-getters in presidential election
Center-right candidates appear to have cannibalized votes
Analysts disagree on who has upper hand in second round
A runoff election will be held in June
(CNN) -- Peruvian exit polls appeared all but confirmed Monday, as official preliminary counts showed that with nearly 90% of presidential ballots counted, the country was headed for a runoff between nationalist Ollanta Humala and former congresswoman Keiko Fujimori.
Pedro Pablo Kuczynski, the economist who was coming in third, had not conceded as of Monday afternoon but admitted that the runoff would "probably" be between Humala and Fujimori.
With nearly 90% of the votes counted, Humala had 31.37% of the vote, compared with Fujimori's 23.22% and Kuczynski's 19.23%.
An Humala-Fujimori runoff is one that many voters in the middle and upper classes may have trouble stomaching.
For many, "this sounds like a terrible choice," said Julio Carrion, a Peruvian professor of political science and international relations at the University of Delaware.
Before the vote, polls that asked voters whom they did not want for president were led by Humala and Fujimori, Carrion said.
Peruvian writer and Nobel Prize laureate Mario Vargas Llosa has characterized the choice between them as a choice between cancer and AIDS, state news reports.
The leftist Humala appeared a threat to the market-oriented economic policies embraced by the country for decades. And Fujimori worried people with pronouncements that she would pardon her father, former President Alberto Fujimori, who is serving a 25-year sentence for human rights abuses. Both candidates have softened or backtracked on these controversial positions since then.
Especially notable in this election was that the apparent third-, fourth- and fifth-place finishers -- Kuczynski, former President Alejandro Toledo and former Lima Mayor Luis Castaneda -- had virtually indistinguishable center-right positions, Carrion said. Combined, the three account for 45% of the votes cast in the election.
Fujimori and Humala made it to the top because the middle-of-the-pack candidates cannibalized each other, he said.
That 45% in the middle will become the battleground for Humala and Fujimori heading into the second round, he said.
Humala, who lost in the second round of the 2006 elections, will have a hard time convincing people that he is not the Hugo Chavez ally that his critics have made him out to be. Humala has said that he has matured, and his choices for advisers show that his moderation may be sincere, Carrion said.
Still, "Fujimori will have an easier time convincing people to vote for her," he said.
Concerns about Fujimori, who at 19 served as the nation's first lady, include whether she will have an authoritarian streak like her father and will allow corruption and have dealings with unsavory characters, as he did.
Besides those fears, Fujimori's policies are not unlike those of the middle three candidates, Carrion said.
But according to an analysis by the Eurasia Group, it is Humala who will have the upper hand in the second round.
Humala will benefit from a strong desire among voters for change, Eurasia Group analyst Erasto Almeida wrote.
"First, he would make a more convincing case that he represents the 'change' that most Peruvians want," he wrote. "Second, most voters have a negative recall of (Fujimori's) father's government."
Almeida added, "If Humala wins he will try to balance his desire to increase the role of the state in the economy without compromising macroeconomic stability, something that could prove challenging."
Peru can expect growth of 7% this year, according to the World Bank, and is one of the fastest-growing economies in Latin America. The country came through the global financial crisis relatively unharmed, maintaining GDP growth, employment creation and poverty reduction, according to Peru's Ministry of Economy and Finance.
The good news comes with high expectations from Peruvians, who want to see the rewards of this progress in tangible ways. While the economy as a whole has done well, salaries have remained depressed during the same period. The country has witnessed a sizable decrease in poverty over the past decade, though it still stands at about 35%.
The top two vote-getters will face each other in a June 5 runoff.
CNN's Mariano Castillo contributed to this report.
FOLLOW THIS TOPIC