16 police officers arrested in connection with Mexico mass graves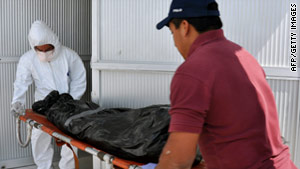 A body is unloaded at the morgue in Mexico. According to authorities, 126 bodies have been recovered
STORY HIGHLIGHTS
Some 126 bodies have been recovered from the graves so far
The attorney general says 16 police officers were protecting the perpetrators
Investigators have identified 17 suspects in the killings, she says
Mexico City (CNN) -- Sixteen municipal police officers from the northeastern Mexican town of San Fernando have been arrested for allegedly protecting those responsible for the mass graves uncovered there, the country's attorney general said.
The police officers worked to cover up the killings of the Zetas drug cartel, Attorney General Marisela Morales said.
Authorities recovered 10 more bodies from the mass graves Wednesday and Thursday, bringing the total number of bodies found to 126, state attorney general's spokesman Ruben Dario Rios Lopez said.
Morales said that to date, investigators have identified 17 people who participated in the executions of the victims, who have been arrested.
She identified the authors of the crime as Salvador Martinez Escobedo, Omar Estrada Luna, and Roman Paloma. Paloma is the leader of the Zetas in San Fernando, Morales said. Mexico is offering a reward of 15 million pesos ($1.3 million) for information leading to their arrests.
Authorities began finding the graves earlier this month during an investigation into a report of the kidnapping of passengers from a bus in late March. The investigation led them to San Fernando, Tamaulipas -- the same place where in August of last year, the bodies of 72 immigrants were found at a ranch.
Tamaulipas is one of Mexico's most active states when it comes to drug trafficking. The Gulf cartel and the Zetas cartel operate in the state and have strongholds there.
The Zetas have been blamed for the killings of the 72 migrants found in San Fernando last year.
Nationwide, the Mexican government says there have been some 35,000 drug-related deaths since President Felipe Calderon began a crackdown on the cartels in December 2006.
FOLLOW THIS TOPIC