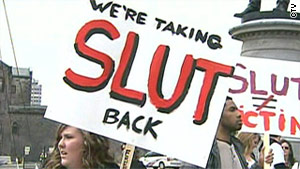 Demonstrators marched through Toronto earlier this year as part of the SlutWalk campaign against sexual violence.
STORY HIGHLIGHTS
Officer reportedly said "women should avoid dressing like sluts in order not to be victimized"
Prompted thousands of women to march in first "SlutWalk" protest against sexual violence
Campaign to end culture of blame surrounding victims of rape spread via social media
SlutWalk protests spread from Canada to U.S., Australia and now Europe
(CNN) -- A police officer in Canada who reportedly advised women "to avoid dressing as sluts," has sparked a worldwide campaign against sexual violence, with protest marches planned in several cities.
In April this year thousands of women, many deliberately dressed in miniskirts and lingerie, took part in the first "SlutWalk" protest in Toronto, Canada. They were reacting to comments made in January by the officer who was speaking to students at the city's York University about community safety following a wave of sexual assaults on the campus.
According to local media reports, he said: "Women should avoid dressing like sluts in order not to be victimized."
Though the officer in question was later reprimanded and an apology issued, his comments were posted on the internet, inspiring similar protest movements across the world via Twitter and Facebook.
A statement by organizers of a forthcoming SlutWalk protest in London read: "Not only was this a ridiculous and inaccurate statement (women wearing trousers get raped. So do women wearing tracksuits, t-shirts, jeans, jumpers, skiing jackets and burqas), it was incredibly damaging to women around the world, painting them as perpetrators -- rather than victims -- of a disgusting, violent crime."
I am marching because my best friend still thinks that her rape was her fault
--SlutWalk blogger
Organizers have also stressed the need to reclaim the word "slut" as a source of pride rather than shame. According to the SlutWalk Toronto website, women have historically suffered under the burden of this derogatory label.
"Whether dished out as a serious indictment of one's character or merely as a flippant insult, the intent behind the word is always to wound so we're taking it back. 'Slut' is being re-appropriated."
A number of protests have already taken place in the United States, Australia and New Zealand, with Britain set to stage events in London, Edinburgh and Cardiff. On SlutWalk London's Facebook page, over 5,500 people have said they plan to take part in the rally in Hyde Park on June 4.
Organizers say they want an end to the culture of blame which surrounds the victims of rape and sexual assault.
"We've hopefully made more people aware of how victims of sexual assault are often treated by the police and the people around them," said Anastasia Richardson, who is helping to organize the London event.
"I hope that will make more people speak out or complain if victims are not treated fairly."
One blogger on the London SlutWalk website posted: "I am marching because my best friend still thinks that her rape was her fault, because the authorities never looked into it, and because it will always haunt her. And that is not OK."
Another wrote: "We live in a society that ranges from publicly shaming the victim of an honor-rape to insinuating that a rape victim may have somehow 'led her attacker on' through her clothing or demeanor."
Lisa Longstaff of British-based support group Women Against Rape, praised the SlutWalk campaign for upholding the basic principle that "all women are entitled to say no to unwanted sex however we dress and wherever we go."
She told CNN that many women are often denied protection or justice, with some even prosecuted. "The prejudice against women, which tends to blame the woman for an attack on her is universal," she said.
FOLLOW THIS TOPIC