50-plus years later, Cuba publishes Che Guevara diary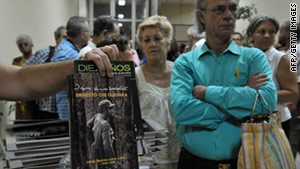 People line up at a Havana store on Tuesday to buy "Diary of a Combatant," the diary of Ernesto "Che" Guevara.
STORY HIGHLIGHTS
Hand-written notebooks cover time spent fighting alongside Castro
Much of the material was covered in previous published book he wrote
Havana (CNN) -- More than 50 years after the fact, Cuba has published the diary that Ernesto "Che" Guevara kept during the armed struggle he waged alongside Fidel Castro from the Sierra Maestra mountains.
"Diary of a Combatant" recounts Guevara's experiences after coming ashore in Cuba on December 2, 1956, until shortly before the rebels declared victory on January 1, 1959.
According to Guevara's widow, Aleida March, the goal is "to show his work, his thoughts, his life, so that the Cuban people and the entire world get to know him and don't distort things anymore."
The book was edited by the Che Guevara Studies Center, which is directed by March, and published by Australia's Ocean Press/Ocean Sur.
Researchers said Guevara kept his diary in hand-written notebooks and that part of the reason they had put off publishing the diary was that some of the notebooks were missing.
"Where are the notebooks? We don't know and there are a lot of different versions," Maria del Carmen Ariet, a leading researcher from the Che Guevara Studies Center, said at a press conference to launch the book.
But she also said that much of the material was included in "Episodes of the Cuban Revolutionary War," a more polished account of his time in the Sierra Maestra mountains that Guevara published in 1963.
"We'd have to ask if he really wanted the 'Diary of a Combatant' published," she said.
Some of Guevara's other diaries have been commercially successful, most notably "The Motorcycle Diaries," the memoir of a 23-year-old medical student on a road trip in Latin America.
Guevara was born in Argentina in 1928 and met Castro in 1955 in Mexico City, where he was plotting his return to Cuba to overthrow Fulgencio Batista.
During the guerrilla fighting in the mountains, Guevara was the first subordinate to be promoted to the rank of "comandante" by Castro.
He went on to become Cubašs Central Bank chief before heading to Africa and then Bolivia to continue armed struggles. He was killed in 1967.
FOLLOW THIS TOPIC