FARC leader narrowly escapes attack, Colombian president says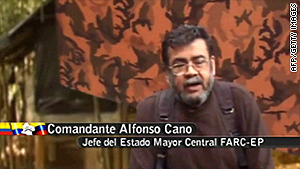 TV grab showing Alfonso Cano giving a message to Colombian President elect Juan Manuel Santos.
STORY HIGHLIGHTS
Juan Manuel Santos says security forces missed the leader by less than a day
Columbian forces were tipped off by his "own people," the president says
"Alfonso Cano" took over the FARC's top spot in 2008
He has proved elusive to authorities
(CNN) -- Colombian President Juan Manuel Santos said Sunday that the leader of the Revolutionary Armed Forces of Colombia escaped an attack by less than a day.
Security forces raided a remote camp on Thursday believed to have been a hideout for the top leader of the group commonly known as FARC, Santos said.
Alfonso Cano, the pseudonym of the leader, slept at that location, near the border of Huila and Cauca in the center-west of the country, Wednesday night, Santos added.
After the raid, authorities found clothes they believe belonged to Cano plus evidence of two dogs.
CNN affiliate Caracol TV reported that authorities also found large quantities of the cigarettes the FARC leader is thought to smoke.
"We were very close," the president told reporters at a military airport in Bogota. He said security forces had acted on an intelligence tip from one of Cano's "own people."
Cano took over the FARC's top spot after an apparent heart attack killed the former leader, Manuel Marulanda, in March 2008.
The FARC has been at war with the Colombian government since the 1960s. While severely weakened in recent years, the leftist guerrilla group has continued to carry out kidnappings and attack security forces in the South American nation.
The United States and European Union consider the FARC a terrorist organization.
Despite the fact that Cano eluded capture, Santos praised the operation against him, stressing the group is increasingly weak and on the run. He asked the public to have patience and vowed to continue taking the fight to wherever the guerrillas go.
"Sooner or later, Cano will fall -- just like all the leaders of the FARC will fall," Santos said.
FOLLOW THIS TOPIC