STORY HIGHLIGHTS
Authorities have rental car, electronic devices
Robyn Gardner, 35, was last seen a week ago near Baby Beach, authorities say
The suspect is a 50-year-old U.S. citizen and Gardner's traveling companion
A man who says he was dating Gardner alerted the Natalee Holloway Resource Center
(CNN) -- Aruban authorities said Wednesday they will analyze a rental car, electronic devices and the answers of a man termed the prime suspect in the disappearance of an American woman.
Robyn Gardner, 35, of Maryland, was last seen August 2 near Baby Beach on the western tip of the Caribbean island, said Ann Angela, spokeswoman for the prosecutor's office.
Aruba Solicitor General Taco Stein said no witnesses have come forward to say they saw Gardner and Gary Giordano snorkeling off Baby Beach. Witnesses have said they saw the couple on the beach.
Authorities have impounded a rental car and electronic devices in Giordano's possession, Stein said.
Angela said her office could only identify the suspect publicly by his initials: GVG. "He is suspected of involvement in the disappearance of Miss Gardner," Angela said, adding that the man is a 50-year-old U.S. citizen.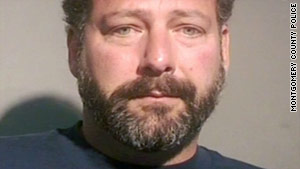 Aruban authorities said witnesses saw Gary Giordano (pictured) on the beach with Robyn Gardner.
The prosecutor's office released a statement later Tuesday that provided some detail. The suspect told authorities that he had been snorkeling with Gardner behind Nanki Country Club when he signaled to her to swim back, the statement read. When the man reached the beach, the woman was nowhere to be found, he allegedly told them.
"The statements made by the traveling companion led to such questions that on Friday, August 5, 2011, it was decided to detain him for further questioning on the possible drowning of the woman," the prosecutor's office said in the statement.
Michael Lopez, Giordano's attorney, said Tuesday his client came to Aruba on vacation with a female friend he had met on a dating site and has known for years.

Boyfriend of missing Aruba woman speaks

Beth Holloway on missing Aruba woman
Lopez told reporters that his client has been cooperating with police. Lopez said that on his client's last scheduled day in Aruba, he asked authorities if he needed to stay.
"They didn't answer it, and on his way to the airport, they detained him as a suspect for murder," Lopez said.
Angela would not say what evidence led authorities to suspect his involvement in Gardner's disappearance.
After finding no trace of Gardner, authorities stopped their active search for her on Saturday and are now searching "passively," Angela said. Police helicopters and search and rescue officials are keeping their eyes out for any clues to her disappearance, "but it's not an active search anymore," she said.
Richard Forester, also of Maryland, told CNN he and Gardner have been dating for the past seven or eight months.
He told HLN's Nancy Grace on Wednesday evening that Gardner wasn't the type to go into deep water, and would more likely stay by the pool.
"It's just not her to go out and snorkel," Forester said.
Forester said Tuesday that before Gardner's trip, the two argued over "the circumstances of her travel" to Aruba. He last heard from her on August 2 in a Facebook message, in which she said they would "work it out" when she got back.
Earlier that day, Forester said, Gardner posted on her Facebook wall "this sucks," with no further explanation.
She was scheduled to return to the United States on August 4, Forester said.
The Natalee Holloway Resource Center -- named after a young American woman whose disappearance in Aruba made international news -- said Forester brought their attention to the case Monday.
"Gardner is described as 5 feet 5 inches and 120 pounds, with blond hair and brown eyes," the center said in a news release. "She has tattoos on her left arm (back of her shoulder to her elbow), her rib cage, and her right bicep. Friends and family members are pleading with the public to help bring her home."
CNN's Martin Savidge and Josh Levs contributed to this report.
Watch Nancy Grace Monday through Sunday starting at 8 p.m. ET on HLN. For the latest from Nancy Grace click here.
FOLLOW THIS TOPIC