7.0-magnitude earthquake strikes northern Peru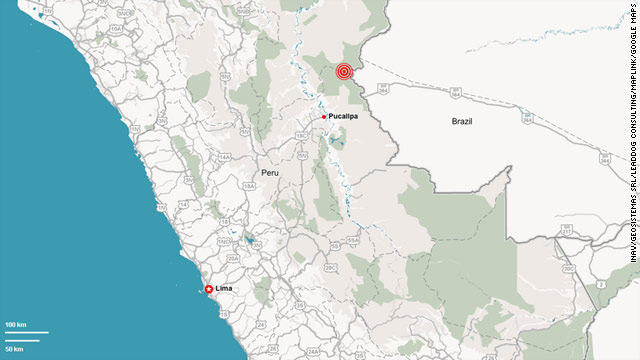 STORY HIGHLIGHTS
NEW: Officials say there was at least one aftershock after the 7.0 quake
Authorities have not reported victims or significant damage
An earthquake strikes near Peru's border with Brazil
The earthquake is felt in Lima, about 350 miles away
Lima, Peru (CNN) -- A 7.0-magnitude earthquake struck northern Peru on Wednesday, authorities said.
The quake's epicenter was about 350 miles (570 kilometers) northeast of the country's capital, Lima, and 50 miles (80 kilometers) north of Pucallpa, Peru, the U.S. Geological Survey reported.
Authorities at the Geophysics Institute of Peru said no victims or significant damage had been reported. At least one aftershock had been recorded, the institute said.
Lima residents felt a brief, but strong, tremor.
The quake struck around 12:45 p.m. near Peru's border with Brazil at a depth of about 90 miles (145 kilometers).
CNN's Gabriela Matute and journalist Maria Elena Belaunde contributed to this report.
FOLLOW THIS TOPIC