Cuban defense minister dies of heart attack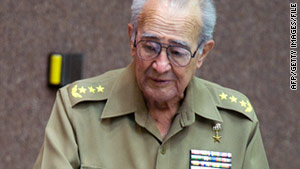 Cuba's defense minister, Julio Casa Regueiro, 75, died suddenly on Saturday from a heart attack.
STORY HIGHLIGHTS
Julio Casas Regueiro was head of Cuba's armed forces
He assumed the role in 2008 when Raul Castro took over the presidency
Casas Regueiro was 75
Havana (CNN) -- Cuba's defense minister died suddenly Saturday of a heart attack at the age of 75, the Caribbean nation's state news service reported.
The death of Julio Casas Regueiro comes at a time when many of the island's leaders are well into their 70s or older.
Casas became head of Cuba's armed forces in February 2008, replacing Raul Castro, who became president after emergency surgery forced his older brother Fidel to retire. Casas also served as vice president of the Council of State.
A longtime revolutionary, he fought directly under Raul Castro in the guerrilla war that brought his brother to power in January 1959.
Casas was a bank accountant in the eastern city of Santiago before joining the rebels. When Raul Castro was made defense minister, he put Casas in charge of the profitable businesses that the military ran, including tourist hotels and the main telephone company.
When Castro became president, Casas was one of the loyal, but aging, generals he chose to surround himself with.
Raul Castro and his No. 2, Jose Ramon Machado Ventura, are both 80 years old, while Fidel Castro is 85.
Casas died at 1:20 p.m. in Havana, according to state TV and websites. Cuba declared Monday a day of national mourning.
CNN's Arthur Brice contributed to this report.