STORY HIGHLIGHTS
State of Queensland begins 2011 facing historic flooding along many coastal rivers
Floods have affected some 200,000 people, span area about the size of France and Germany
Much of this rainfall came from Cyclone Tasha
The La Nina ocean-atmosphere phenomenon has also brought above normal rainfall
(CNN) -- Australia's northeastern state of Queensland begins 2011 facing historic river flooding along many coastal rivers, namely the Fitzroy River near the city of Rockhampton. In Rockhampton, the river is expected to reach its crest on Wednesday at a height exceeded only once in recorded history, back in January 1918.
The landmark floods, which have affected at least 200,000 people and spanned an area approximately the size of France and Germany, according to the Australian Bureau of Meteorology, are the result of extremely heavy rains which occurred at the end of 2010.
Many locations along the central coast of Queensland saw rainfall amounts during the month of December top 800mm (31.5 inches), which amounted to 400 percent of their average for the month.
Are you there? Send us your video and photos via iReport

Flooding brings locals to tears

Queensland flooding worsens

Australia floods impact commodities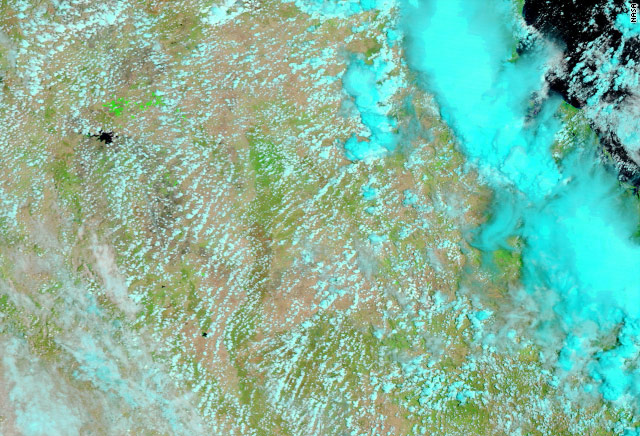 Floods: Before and after
Much of this rainfall came from Cyclone Tasha, which made landfall in eastern Queensland on Christmas morning. Queenslanders cannot simply point to Tasha's torrential rainfalls as the sole cause of their current water-logged nightmare, however, as rivers and streams were already swollen from months of above average rainfall.
Australia had their wettest spring (September to November) since records began 111 years ago, according to the U.S. National Oceanic and Atmospheric Administration's (NOAA) National Climate Data Center.
For Queensland in particular, 2010 ended up the rainiest year on record. So what is behind the months of above average rainfall for an area that has been suffering from a decade-long drought?
The La Nina coupled ocean-atmosphere phenomenon, which was declared by the Australian Bureau of Meteorology to be in effect beginning in the summer of 2010, is associated with above normal rainfall, especially over the second half of the year, in eastern and northern Australia.
La Nina, and its counterpart El Nino, are opposite ends of an oscillation which is defined by changes in sea surface temperature in the Pacific Ocean.
Although El Nino and La Nina occur in the Equatorial Pacific, they can affect weather patterns around the globe.
During a La Nina event, the trade winds in the Pacific, which blow from east to west, strengthen, resulting in warmer than average waters building up in the West Pacific (which borders eastern Australia).
During El Nino, the trade winds weaken, allowing the warm waters of the Western Pacific to spread out into the Central and Eastern Pacific all the way to South America.
The location of the warmer water plays an important role in determining the weather patterns present with El Nino and La Nina.
Warmer sea surface temperatures lead to enhanced rainfall by allowing for lower pressure and greater amounts of water vapor. Thus, during La Nina years, above average rainfall is experienced where the warm water is found -- in the western Pacific.
Conversely, during El Nino years, as you would expect, above average rainfall is generated along the eastern Pacific in such locations as California and Peru.
The warmer than average sea surface temperatures also tend to spawn more tropical cyclones, called hurricanes when they occur in the Atlantic. As a result of this year's La Nina, the Bureau of Meteorology in Australia is predicting an above average tropical cyclone season.
Normally the waters off the east coast of Australia see four tropical cyclones during a tropical season (November-April), but the forecast for this tropical season is for six to seven tropical cyclones to form.
Cyclone Tasha was the first of the year in the region, thus Queensland could see further rainfall and flooding from an increased cyclone threat through the rest of the summer and into autumn.
El Nino and La Nina, as well as a neutral state in between the two, occur over periods of about every five years, but can vary from three to seven years. The intensity of an El Nino or La Nina can vary as well, where stronger events are normally associated with more extreme weather.
The current La Nina, though ongoing and thus hard to rank historically, appears to be a moderate and possibly strong episode of the phenomenon which is to end later in 2011.
It is also unclear whether or not El Ninos and La Ninas are becoming more or less frequent in a changing climate, or if the intensity is at all affected by climate change.
It stands to reason that a warmer climate would lead to warmer ocean temperatures, thus enhancing the rainfall brought about by El Nino/La Nina even further.
Some studies have shown this relationship, but like other climate change studies, the results are based on a limited and somewhat unreliable data record.
One thing we know for sure is that La Nina is still occurring in early 2011, just as it was for the latter half of 2010, and eastern Australia lies perilously close to its source regions in the vast Pacific Ocean.
Australia's climate is dominated by the cycles of El Nino and La Nina, and flooding is expected to occur whenever La Nina is present, just as drought is prevalent down-under during El Nino years.
Later this week, the level of the Fitzroy River in Rockhampton is expected to near heights not seen since 1954, a year which featured another strong La Nina.
FOLLOW THIS TOPIC