U.S. envoy arrives in South Korea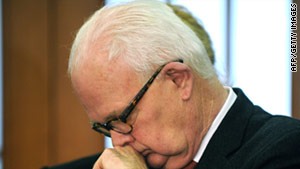 Stephen Bosworth, the U.S. special envoy for North Korea, arrived Tuesday in South Korea to talk security on the Korean Peninsula.
STORY HIGHLIGHTS
Ambassador Stephen Bosworth says "serious negotiations" regarding North Korea are key
He will also travel to Japan and China this week to discuss the Korean Peninsula
Tensions have been running high there for months
Seoul, South Korea (CNN) -- The U.S. special envoy for North Korea arrived in South Korea Tuesday on a trip to the region to discuss next steps on the Korean Peninsula.
"We believe that serious negotiations must be at the heart of any strategy for dealing with North Korea," Ambassador Stephen Bosworth told reporters. "We look forward to being able to launch those at a reasonably early time."
Bosworth is also expected to travel to Japan and China this week to discuss the situation.
China is the isolated North's sole major ally and provides it with a crucial fuel and food lifeline.
When asked whether there was hope of more assistance from Beijing in dealing with Pyongyang, Bosworth said he would "let the Chinese speak for themselves" on the issue.
"We share a large number of common interests around the world and in the region, particularly on the Korean Peninsula. We will continue to coordinate with the Chinese as we move forward," Bosworth told reporters.
Tensions have been running high between North and South Korea ever since the sinking of the South Korean warship Cheonan last March, killing 46 sailors. South Korea and the international community blamed the North for the sinking, but Pyongyang has denied the accusations.
In November, North Korea said the South's navy fired into Northern waters and, in retaliation, it shelled Yeonpyeong Island, killing four South Koreans.
Over the weekend, officials in North Korea called for better ties with South Korea, according to South Korea's Yonhap news agency. North Korea urged dialogue and cooperation in 2011 and asked the South to end its military exercises.
South Korea's president said in a televised New Year's address that North Korea needs to work toward peace with deeds as well as with words.
"I remind the North that the path toward peace is yet open. The door for dialogue is still open. If the North exhibits sincerity, we have both the will and the plan to drastically enhance economic cooperation together with the international community," South Korean President Lee Myung-bak said.
CNN's Kyung Lah contributed to this report.