Shelter evacuates animals caught in floodwaters
STORY HIGHLIGHTS
RSPCA Queensland put out emergency SOS for people to take animals

Group put out alert after floods inundated center, destroyed equipment

Chief inspector: Some animals had water up to their stomachs

Group fears large loss of wildlife, livestock in deluged areas

Are you there? Share your stories, photos and videos with CNN
(CNN) -- More than 500 animals -- including sheep, ducks, goats, a peacock, horses, dogs and cats -- were evacuated Wednesday from Queensland's largest animal shelter due to rising floodwaters from the Brisbane River, an official said.
A Queensland animal protection group put out an emergency SOS to the community to take the animals into emergency foster care after the five-acre center in Brisbane was inundated -- with some buildings completely underwater -- and equipment destroyed.
"The water is still rising," said Michael Pecic, local chief inspector for the Royal Society for the Prevention of Cruelty to Animals. Some of the animals had water up to their stomachs. "We were just trying to move in front of the wall of water as it rose."
Pecic said hundreds of people in the community responded to their call for help, and the animals were transported to temporary homes in animal ambulances, dog trailers and cars.

Brisbane River rising rapidly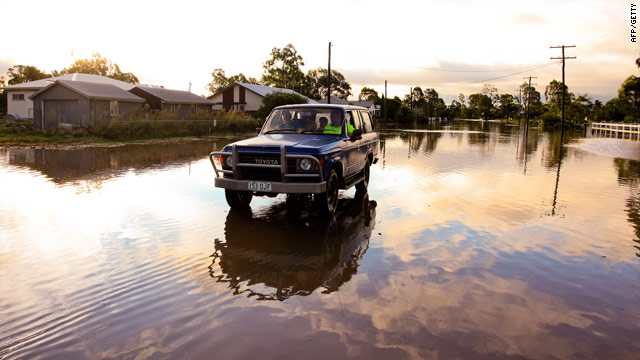 Gallery: Queensland floods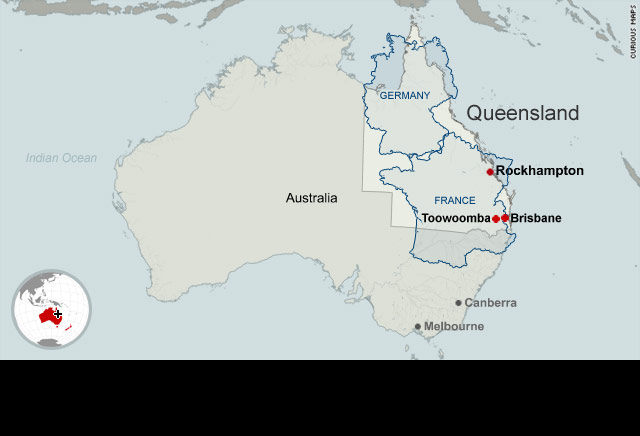 Flood-hit area
The floodwaters have taken a toll on the animals, and the RSPCA had to set up triage areas for animals with various responses to the disaster.
Most animals responded like humans did, "very cooperative," while others became aggressive or emotionally shutdown. Difficult animals were either tended to one-on-one by a volunteer or put in crates and covered with blankets, Pecic said.
It could be a few weeks before the center re-opens. Floodwaters have isolated another two RSPCA shelters in Queensland, where staff received provisions via helicopters.
The organization also has set up several evacuation emergency areas for owners to go with their pets. RSPCA has four teams on standby to search for stranded livestock or wildlife in areas deluged by walls of water earlier this week, but Pecic said he feared they had lost a "large amount of animals."

Part of complete coverage on

Floods have devastated the landscape of the state of Queensland, Australia, but they also present a high risk to the Great Barrier Reef.

Three quarters of the state of Queensland in Australia have been declared a disaster zone after torrential rain threatened the worst flooding in 37 years.

More than 500 animals -- including sheep, ducks, goats, a peacock, horses, dogs and cats -- were evacuated from Queensland's largest shelter.

The devastating floodwaters are soaking one of the few economic success stories in the developed world since the Great Recession.

Brisbane in eastern Australian is reeling from wide-ranging floods that are threatening to exceed the damage done by the record 1974 floods.

Brisbane is more accustomed to drought than flood. Residents usually adhere to strict water restrictions during the long wait for rain.


Today's five most popular stories