STORY HIGHLIGHTS
Chris Jeffries: Water at least a meter high, had to leave home

Jeffries: 80-90 pontoons, restaurant ripped off moorings and floating in Brisbane River

Yvonne Ward: Family moving possessions upstairs, water not likely to reach home

Suneiah Cullen: Not enough warning, family could lose possessions

(CNN) -- Brisbane in eastern Australian is reeling from wide-ranging floods that are threatening to exceed the damage done by the record 1974 floods.
Models predict that 19,700 homes will be "completely flooded" in Brisbane, which is home to more than 1 million residents, and another 4,000 homes were likely to be affected in Ipswich, according to Queensland Premier Anna Bligh.
The river is expected to rise beyond the records set in 1974 when it broke its banks, flooding more than 6,000 homes and killing 14 people.
Here are some of the stories of those affected by the floods.
Man flees home, watches river 'flowing like mad'
Chris Jeffries watched a floating restaurant ripped off its moors slide down the Brisbane River after floodwaters reaching at least a meter high inundated his neighborhood in East Brisbane, Australia.
He helped people in another area sandbag their house after he and his girlfriend had to flee their own home.

Brisbane bracing for more flooding

Australian PM warns of more bad news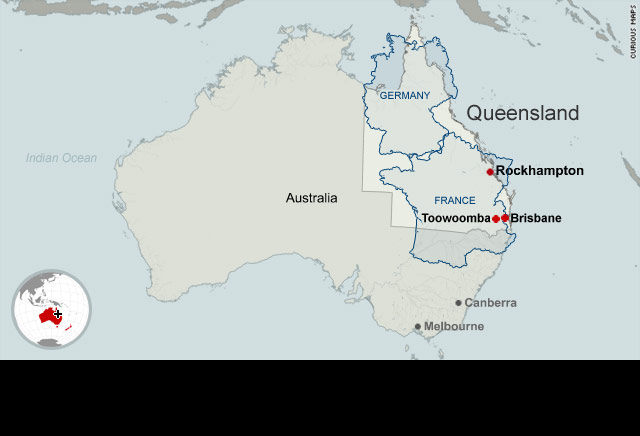 Flood-hit area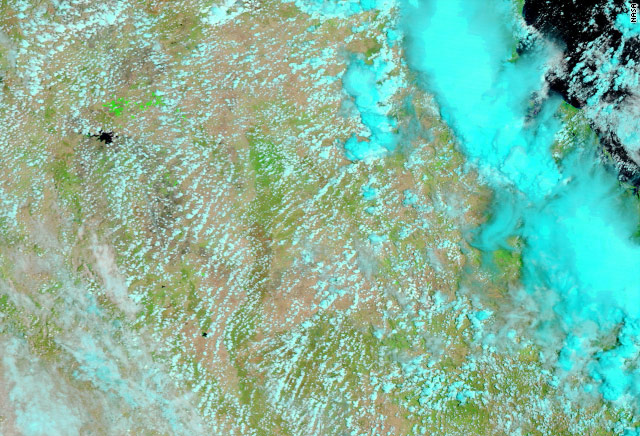 Satellite view
"My girlfriend was in tears," said Jeffries, a 25-year-old university student. "Having to just move everything upstairs and pack up and leave, it was heartbreaking. The way they're talking for flood levels, my first floor is going to be underwater. So everything that I have downstairs that I couldn't move upstairs, it's just, it's gone."
Jeffries said they grabbed photos, artwork, food and clothing from the home he has lived in for ten years and left Tuesday afternoon.
They made the decision after a wall of water struck Toowoomba -- a city about 100 kilometers west of Brisbane -- earlier this week, watching the water rise in their neighborhood, which lies near a creek. The couple is staying with his dad in a suburb west of East Brisbane along with several others who had to flee their homes.
Jeffries returned Wednesday morning to his home to try and retrieve some items, but he couldn't drive in.
"'I had to wade through the water and hold stuff above my head," he said. If he was still staying there, "I wouldn't be able to get out."
Jeffries said he and a friend visiting from Canada have been watching the Brisbane River and saw about 80-90 pontoons ripped free of their moorings floating down the waterway.
"It's just flowing like mad," he said. "It's burst its banks, and it's quite upsetting to watch actually."
He knows that they won't be going home anytime soon since authorities have warned of a "king tide" late next week.
"We won't be going back until after that," he said. "We are going to wait it out next week."
Waters are rising, birthday party called off
Yvonne Ward, who lives on the Brisbane River in south Brisbane, said her family was planning to evacuate Wednesday before dark.
The power is off and the Yeronga neighborhood is surrounded by water with one passable road out, Ward said. Still, most of the neighbors are there.
The Ward's Queenslander-style home -- a wooden house set on stumps designed to keep it cool -- lies 80 meters from the encroaching water. Built in the 1930s, it survived the 1974 floods.
"But they (authorities) said this is bigger," Ward said. "If we get more rain in the (river) catchment, then you don't know."

Families search for missing in Australia

Worse flooding yet to come for Brisbane

Ipswich copes with historic floods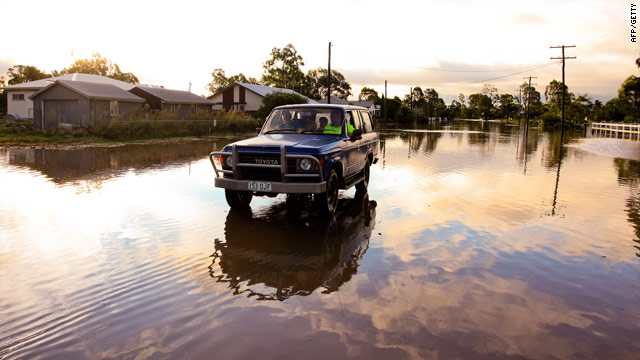 Gallery: Queensland floods
The family has moved their bikes, clothes and tools upstairs, and have begun unplugging electrical appliances.
"Not quite sure where we'll go yet," Ward said. "Could only hope for the best and prepare for the worst."
She expects that the water won't reach their house on a hillside but likely the second property down. She can see search and rescue boats on the water.
For the first time in weeks, the sun was shining.
"A beautiful, sunny hot day, a sort of surreal experience knowing that the water is coming," Ward said.
Her daughter was supposed to celebrate her seventh birthday on Wednesday but that has been called off.
"The sun is shining beautifully, and I had to explain to my daughter why the party is canceled, that the water's out, and it's dangerous. An irony."
Family evacuates, 'I just didn't see it coming'
Late Wednesday morning Suneiah Cullen and her family evacuated their home, which lay a couple blocks from the Brisbane River, for the other side of the city.
By afternoon they learned that the floodwater had reached their fence and was to rise two meters in 20 minutes -- the level of their ground floor.
"The street that leads up to the river was underwater as of midnight," and any areas near a park were also flooded, she said.
Worse was the sight of children still playing in the swollen waterways, she added.
If the water rises up to 20 meters, the whole house will go, she said. The family moved their belongings upstairs on Tuesday night with the help of friends.
"Probably not until this morning that we thought we might lose the actual contents of our house," she said. "As of 6 a.m., we saw how high the water had reached."
Recent rain plus the high tide during the afternoon spelled trouble.
"It's a bit surreal, I just didn't see it coming," she said. "There are probably a lot of people who feel the same way."
The number of homes affected is rising, compared to predictions, she said.
"Had we known yesterday morning, we would have gone home earlier from work and moved our furniture. I found out around 12:30 p.m. that there would be issues."
Others, she said, remained at work until the end of the day, with little time to plan logistics or prepare their homes and belongings.
"From my point of view, they really underplayed the fact that Brisbane was going to get hit by a flood. No word until yesterday morning," she said.