STORY HIGHLIGHTS
NEW: Authorities warn destruction from flooding would take months to clear up
15 people dead, more than 70 are missing
"We are the ones that they knock down and we get up again," PM Bligh says
"Underneath every one of those roofs is a horror story," Bligh says
Are you there? Share your photos, videos and stories with CNN
Brisbane, Australia (CNN) -- Floodwater that threatened the worst flooding in Brisbane in decades slowly started to recede Thursday, carving a muddy trail of destruction through the city which authorities warned would take months to clear up.
More than 20,000 homes were inundated with water after the normally subdued Brisbane River turned into a raging torrent as weeks of rain combined with bulging dams and high tides to push it to a peak of over four meters at high tide early Thursday.
At a news conference, Queensland Premier Anna Bligh fought back tears as she described the damage inflicted by the state's "worst natural disaster in our history."
"This morning, thousands of people in southeast Queensland have awakened to the unbearable agony of their homes being devastated, their businesses, their workplaces being devastated and, for some people, they've seen both their workplaces and their homes washed away," Bligh said.

Cars swept away in flood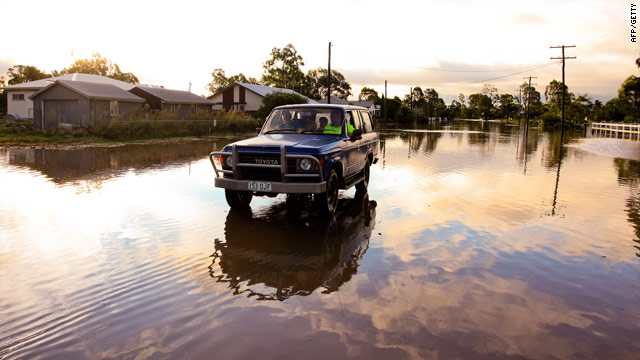 Gallery: Queensland floods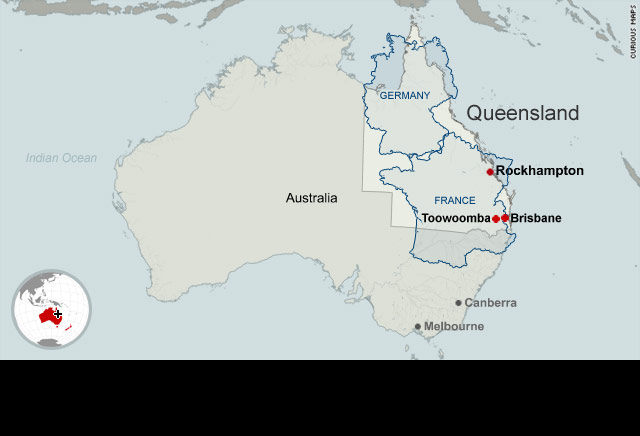 Flood-hit area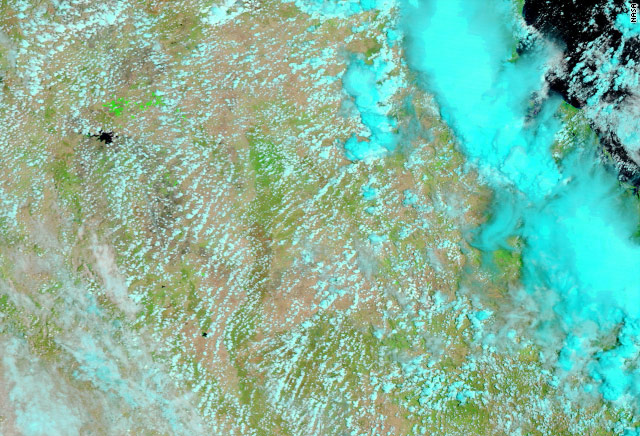 Satellite view
The death toll rose to 15 Thursday as around 200 people, including Australian Defence Forces, Special Emergency Services and police, combed vast tracts of land and swollen waters for 70 people still missing.
The search was concentrated to the west of Brisbane, near Toowoomba, which was all but submerged after a wall of water tore through the town on Monday.
"There has to be an expectation of further deaths and further bodies .... We have to steel ourselves for that terrible outcome," said Australian Defence Minister Stephen Smith.
Residents in Brisbane were being urged not to enter floodwater due to the risk of illness after sewerage plants along the river were inundated by water.
Drinking water was still safe, authorities said, but despite its apparent abundance, residents were being urged to conserve water in the event that supplies were disrupted.
Sight-seers were also warned to stay clear of the Brisbane River or risk hampering emergency service operations. In the past few days, crowds have gathered at vantage points to watch the water rise.
From Monday, police said a special taskforce named "Operation Safeguard" would swing into action to deter looting in flood-affected areas of Brisbane, Ipswich and the Lockyer Valley. While there had been "very few incidences of looting," Emergency Services Minister Neil Roberts said such behavior was "completely unacceptable and will not be tolerated."
"The formation of this squad is a pre-emptive strike ... a clear warning to any member of the public who thinks they can profit from this disaster," Roberts said. Two hundred officers from Queensland and three other states would patrol flooded areas from Monday for 24 hours a day for several weeks, police said.
Aerial views of Brisbane showed islands of roofs and treetops jutting from a sea of muddy brown water -- or stranded high-rises jutting starkly from murky river overflow.
"I could see hundreds of roofs yesterday and that's all I could see was those rooftops ... underneath every one of those roofs is a family, underneath every one of those roofs is a horror story," Bligh said about her flyover of the affected area.
The Brisbane River, which slices through the city, peaked at 4.6 meters (just over 15 feet) overnight, about a meter less than previous predictions and below the level set by the last major flood in 1974.
Officials had predicted a crest at 5.2 meters -- and warned that nearly 20,000 homes would be fully engulfed by water.
But Bligh said 11,900 homes in Brisbane were fully flooded and 14,700 were partially flooded. In addition, about 2,500 businesses were fully inundated and 2,500 more were partially inundated, she said. Many of them will never again be habitable, she said.
Electricity was cut to 37 substations in the Central Business District, and 118,000 residences were without electricity. Temporary mobile phone towers were being erected to restore cell phone service, which was spotty or nonexistent in many areas.
"As we weep for what we have lost and as we grieve for family and friends, and we confront the challenge that is before us, I want us to remember who we are -- we are Queenslanders," Bligh said. "We are the ones that they knock down and we get up again."
The flooding in Brisbane follows flooding elsewhere in the state. Soon after Christmas, water from torrential rains swamped the northern city of Rockhampton, 600 kilometers (370 miles) north of Brisbane, triggering a massive recovery operation to rebuild the town. Those floodwaters have been sweeping toward the coasts since that time. So far, 70 towns and cities in Queensland have been affected by the flood, Bligh said.
CNN's John Raedler and Hilary Whiteman contributed to this report.