STORY HIGHLIGHTS
Church workers go from door to door to help residents
Thousands are without power
Sixty-seven people are missing
Store owner: "No one thinks anything like this is going to happen"
Are you there? Share your photos, videos and stories with CNN
Brisbane, Australia (CNN) -- Anxious Brisbane residents scooped up flashlights and batteries, raided grocery store shelves for supplies and carted valuables away from the reach of rising waters Wednesday as the region prepared for what the Queensland premier described as "the worst natural disaster in our history."
A wave of water was sweeping through the city's main river system and the prediction was ominous.
The Brisbane River, which cuts through the city center, was expected to rise beyond the record set in 1974 when it broke its banks, flooding more than 6,000 homes and killing 14 people.
This time, models predict that 19,700 homes will be "completely flooded" in Brisbane, which is home to more than 1 million people, and another 4,000 homes are likely to be affected in Ipswich, said Queensland Premier Anna Bligh.

Brisbane floodwaters rising quickly

Families search for missing in Australia

Worse flooding yet to come for Brisbane

Brisbane River rising rapidly
"We are preparing for the worst natural disaster in our history," she said.
Throughout the day Wednesday, emergency personnel ferried residents from low-lying suburbs. The numbers at evacuation centers swelled. Water had already swallowed the bottom levels of many houses and was lapping at the second floor.
A group of church workers knocked on doors, offering to help move belongings. No one refused.
"I was surprised by people coming in. I have to move all the stuff to upstairs to ensure its safety. But where I can go I don't know," said Hao Hu, as the church workers carried his belongings upstairs.
Outside, a man -- a complete stranger -- was in Hao's small courtyard, dismantling an air-conditioning unit to take the components upstairs.
Matt Corrigan and his roommates took their possessions to a friend's house -- but not fast enough.
"It was about 12 o'clock (Tuesday) when we started packing up as the water started coming up our driveway," he said. "We came back yesterday at 5:30 (p.m.) and our bottom floor had gone. The water was up past our waists and we waded into our house to grab a few other things we could find and had to hope for the best.
"We came back today and ... it's up to our second level," he said. "It's up to the window and its still rising. We have no way of getting to our house and finding out how it is."
The devastating impact has not been limited to flooding. Some places that remain dry have been isolated for more than two weeks, Bligh said. Medicines and other supplies have been ferried in by helicopter in some cases.
"These floods have an effect, whether they're in your backyard and coming through your floorboards or whether you are isolated," she said.

Brisbane bracing for more flooding

Cars swept away in flood

Australian PM warns of more bad news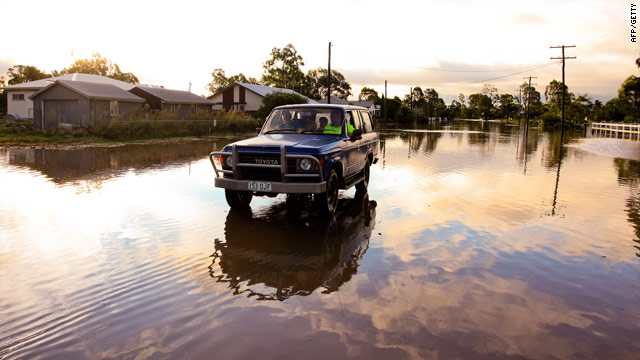 Gallery: Queensland floods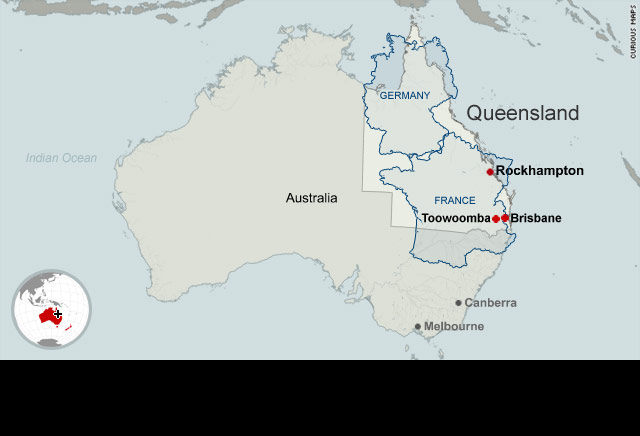 Flood-hit area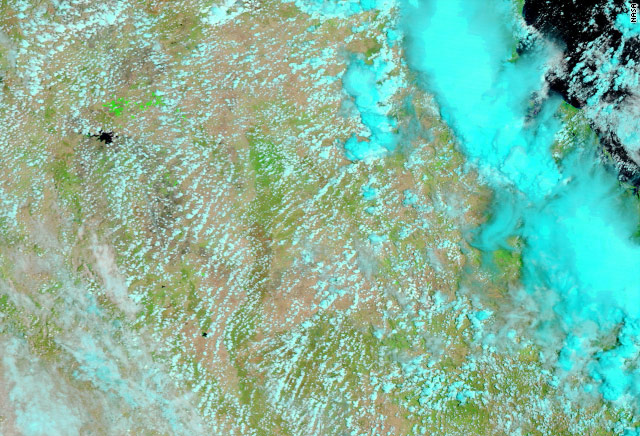 Satellite view
Twelve people have died and 67 were missing, she told reporters.
Most were missing in and around the city of Toowoomba, which was devastated Monday by what is being described as an "inland tsunami." Toowoomba is about 100km (62 miles) west of Brisbane.
"I think we've all been shocked by the images of that wall of water just wreaking such devastation and... when we hear the statistics about how many homes are going to be hit in Ipswich and here in Brisbane, the dimensions of it are truly mind-boggling," Australian Prime Minister Julia Gillard said.
"It is terribly sad and I do fear that as a nation we have to prepare ourselves for some more bad news and for a rising death toll," she told Sky News. "The nation is going to have some grieving to do and today we've got some work to do as well, to assist people to prepare and to keep with the search and rescue. There are Australians desperately waiting for news."
Power was being switched off Wednesday to homes in Brisbane and Ipswich, west of the city, as flood water threatened electricity sources. Thousands of residents in parts of Brisbane and Ipswich spent the night in darkness Wednesday.
The heavy rain and predicted flooding in Brisbane follows flooding elsewhere in the state. Soon after Christmas, water swamped the northern city of Rockhampton, 600 kilometers (370 miles) north of Brisbane, triggering a massive recovery operation to rebuild the town.
Cathy Kielenniva, a restaurant owner, stood outside her store as friends and colleagues waded through thigh-high water to rescue takeout boxes and electronic equipment.
"I can't believe it. A couple of hours ago it was just up to our ankles and now it's like a little inland sea," she said.
"We keep adjusting our damage levels of what we think. I rang my insurer this morning but they are telling me that flood is not covered because no flood is covered under a commercial policy because 'it's not a matter of if, it's a matter of when.' No one thinks anything like this is going to happen."
But with the Brisbane River expected to peak at 4 meters (13 feet) by Thursday afternoon, the improbable has become all too real.
CNN's John Raedler contributed to this report.
FOLLOW THIS TOPIC