'We are not going to amend' blasphemy laws, Pakistani PM says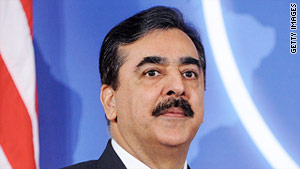 Yousaf Raza Gilani said Monday that his government will not amend Pakistan's controversial blasphemy laws.
STORY HIGHLIGHTS
Prime Minister's announcement comes amid growing pressure from hard-line religious groups
Punjab governor who criticized blasphemy laws was killed on January 4
Uproar arose amid publicity for the case of Asia Bibi, of Punjab province
Bibi, a Christian, was sentenced to death for blasphemy
Islamabad, Pakistan (CNN) -- Pakistan's prime minister pledged on Monday the government will not change the country's controversial blasphemy laws.
Prime Minister Yousaf Raza Gilani's announcement comes amid growing pressure from hard-line religious groups and nearly two weeks after the assassination of a leading liberal politician who led a public campaign to change the laws.
"We are not going to amend them," Gilani told a gathering at a scheduled appearance in central Pakistan on Monday. "Anyone who says there will be changes is lying."
Last November, Salman Taseer, then governor of Punjab, said Pakistan's blasphemy laws were being misused to persecute religious minorities. He also called for the release of Asia Bibi, a Pakistani Christian woman who he claimed was wrongly convicted and sentenced to death for violating the blasphemy laws.
Pakistani President Asif Ali Zardari and senior government officials indicated Bibi would be pardoned if the courts rejected her appeal. Another government official announced plans for a committee to consider changes to the blasphemy laws.
But the publicity surrounding the case and the ensuing debate over the laws sparked a fierce backlash by hard-line religious groups. Thousands protested in Pakistan's major cities and warned the government not to pardon Bibi or amend the laws. Some threatened governor Taseer or anyone else who dared tamper with the laws.
On January 4, a security guard sprayed Taseer with more than 20 bullets in broad daylight at an upscale Islamabad shopping plaza.
Pakistan's religious right praised the killer and called him a hero. In several demonstrations that followed, religious leaders demanded a government promise not to change the blasphemy laws.
CNN's Nasir Habib contributed to this report.
FOLLOW THIS TOPIC