Rant against politicians lands Nobel laureate in court in Bangladesh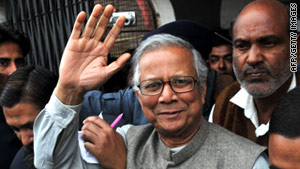 The charge accuses Muhammad Yunus of saying four years ago that politicians were in power only to make money.
STORY HIGHLIGHTS
Nobel Peace Prize winner is accused of defamation
The charges stem from remarks he made in 2007
Yunus is known as the pioneer of micro-lending
Dhaka, Bangladesh (CNN) -- Micro-credit pioneer and Nobel Peace Prize winner Muhammad Yunus appeared in a Bangladesh court Tuesday on a defamation charge for reportedly criticizing politicians four years ago, court officials said.
The state prosecutor for Mymensingh district court, Wazedul Islam, confirmed Yunus' appearance, saying he "appeared in a defamation suit filed in January 2007."
After a 15-minute hearing at the court in Mymensingh district, about 120 km away from the capital of Dhaka, Magistrate Rozina Khan granted Yunus a 5,000-taka (about $70 U.S.) bail and exempted the Nobel laureate's personal appearance in court for the hearing next month, a court official said. Instead, Yunus will be represented by his lawyer.
Widely known as the "banker to the poor," Yunus founded Grameen Bank in 1983 to help the poor obtain small loans on favorable terms. He and the bank jointly received the 2006 Nobel Peace Prize "for their efforts to create economic and social development from below," according to the Nobel Institute's website.
Yunus has recently faced criticism at home and abroad after a Norwegian television network aired a documentary in November that accused him of an unauthorised aid fund transfer 15 years ago.
The Norwegian government last month cleared him of any wrongdoing, but the Bangladesh government announced a probe last week of Grameen's activities.
The investigation was launched after Prime Minister Sheikh Hasina accused Yunus of playing a "trick" to evade taxes, and charged last month that micro-lenders suck "blood from the poor in the name of poverty alleviation."
The current defamation charges against Yunus stem from comments he made in an interview with French news agency AFP four years ago, in which he reportedly criticized politicians and said they were only in "power to make money." The remarks came shortly after a military-backed interim government took over amid deadly political violence in Bangladesh.
A leftist politician in Mymensingh filed the defamation case on January 21, 2007, with a local magistrate court after Yunus' interview was published in local media.
The court last month asked Yunus to appear after a judicial probe found enough evidence to support the allegations, court inspector Md. Shahid Sukrana told CNN.
Nazrul Islam Chunnu, who filed the case, is a politician and district joint general secretary of the socialist party JSD. He charged that Yunus branded politicians as "corrupt and greedy" and said the politicians were "devoid of ideologies."
If Yunus is convicted of the charges, he faces a maximum two years in prison and/or a fine, said a court official.
FOLLOW THIS TOPIC