STORY HIGHLIGHTS
New York teen Spencer Langerman is immersed in Chinese culture

He is spending one year in a Beijing school, living with a local family

Langerman sees the U.S. from a different perspective; can also see shortcomings in China

He says the opinion of China in the U.S. is flawed, uninformed

Beijing (CNN) -- The boy from Manhattan sits under a picture of Chairman Mao. Sixteen-year-old Spencer Langerman has left his comfortable life in the Big Apple to live with a Beijing family and attend high school for one year.
It is full immersion in China 101. And Langerman admits it is an adventure that his mother and friends were not sure about.
"My friends and family were like: don't let the Chinese brainwash you! Don't let them brainwash you into a communist," he says.
Spencer can laugh about it now. But his first few months in Beijing were a shock. Although he had studied Mandarin for five years, communicating in China was tiring. Then there was settling into his new home.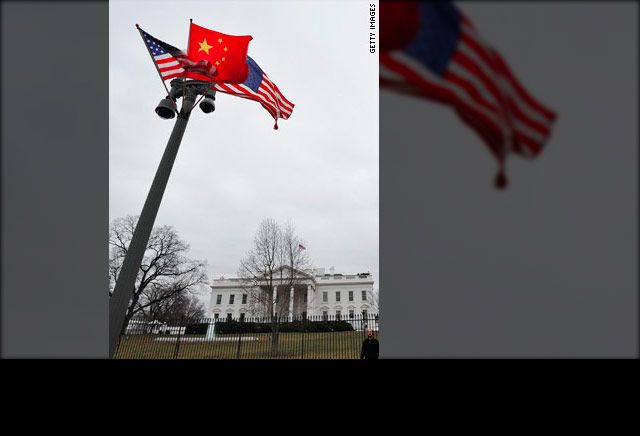 Hu's visit to Washington

China pays US schools to teach Mandarin

China's military power concerns others

Cupcakes and rock 'n' roll in China

Chinese car company sets up college
"We had a one-week orientation then we went to our host families and that was kind of shocking," he says.
Langerman shares a small apartment with his host family and their 13-year-old son. It took some getting used to, but after six months, Langerman is part of his Chinese family.
They speak comfortably over the dinner table. Langerman and his 'little brother' play Chinese chess and his host mother sees him as her second son.
See more of CNN.com's China coverage
"I always chat with my son, now I chat with Spencer. I wash clothes for two sons and cook favorite food for two sons," she says.
Langerman is part of the School Year Abroad program, which brought more than 50 students from the U.S. to Beijing.
They see themselves as pioneers, exploring the emerging superpower up close.
Langerman says Chinese youth are not that different from his friends in New York. They love basketball, listen to pop music and watch American films.
But Langerman says the real differences emerge in the classroom. The education style is rote learning, heavy on facts and figures -- not on analysis or interaction.
"Their approach to education is just memorize, memorize, memorize; study, study, study; and I feel like they don't really have discussion," he says.
While he sees disadvantages in China, he says he is seeing the U.S. with fresh eyes. He says there is so much ignorance, even fear, about China and he wants to counter that.
"The opinion of China in the United States is really kind of off; the idea of China is really flawed. There are lots of thoughts that China is backward and obviously that's wrong. We're here in this super modern city," he says.
Langerman will soon finish his year in China, but he says he hopes to return one day and be a bridge between the two countries. After all, he has family here.