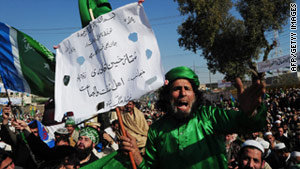 Protesters in Peshawar, Pakistan, on Sunday call for an end to drone strikes.
STORY HIGHLIGHTS
NEW: Protests take place in Peshawar, Mir Ali
A third suspected drone strike kills 6
Other strikes kill 2 and 4 people
The incidents take place in tribal region believed to be home to al Qaeda-linked groups
Islamabad, Pakistan (CNN) -- Pakistani villagers protested Sunday in at least two locations against missile strikes that they believe come from unmanned U.S. aircraft, as at least 12 suspected militants were killed in three separate strikes.
In the city of Peshawar, several thousand people turned out to protest the drone strikes and changes to the country's blasphemy laws. The protest was organized by Jamat-e-Islami, a religious political party with national influence.
In Mir Ali, in North Waziristan, hundreds of protesters chanted, "Anyone who is a friend of the U.S. is a traitor," among other slogans against Washington and the Central Intelligence Agency.
The protest was organized by a group of local villagers who claim they are innocent victims of drone strikes.
Most of the local businesses were shut down due to the protest, which had support from students, businessmen and shopkeepers.
"If drone strikes are not stopped, we will take gun instead of pen against the U.S.," one student protester said.
Suspected U.S. drones carried out three strikes in northwest Pakistan Sunday, killing four suspected militants in one, two in another and six in a third, two Pakistani intelligence officials said.
In the first strike, suspected drones fired two missiles on the militants' vehicle in the Datta Khel area of North Waziristan, one of the seven districts in Pakistan's volatile tribal region bordering Afghanistan.
The militants in the second attack were riding on a motorcycle near Datta Khel when they were hit by a missile from the unmanned drone, officials said. In the third incident, a suspected drone fired two missiles at an alleged militant compound and vehicle near the village of Razmak in North Waziristan.
The officials asked not to be named because they are not authorized to speak to the media.
North Waziristan is widely believed to be a safe haven for al Qaeda-linked militant groups who attack U.S. and NATO forces across the border in Afghanistan.
Washington has pressed the Pakistani military to launch an offensive in North Waziristan, but it has refused, saying its troops are stretched thin with at least 10 other military operations elsewhere.
The Obama administration has stepped up drone strikes targeting Pakistan's tribal region with more than 100 attacks last year, mostly targeting North Waziristan.
The United States is the only country in the region known to have the ability to launch missiles from drones, which are controlled remotely.
U.S. officials normally do not comment on suspected drone strikes.
Human rights groups inside and outside Pakistan call U.S. drone strikes "targeted killings" outside a war zone, and say they break the rules of war and kill too many civilians.
CNN's Reza Sayah contributed to this report