South Korea's foreign minister wants pirates tried in his country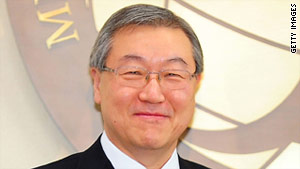 Foreign Minister Kim Sung-Hwan said he wants to put five captured Somali pirates on trial in South Korea.
STORY HIGHLIGHTS
Kim Sung-hwan says possibility being considered of bringing pirates to South Korea
South Koreans rescued 21 sailors, killed eight pirates and captured five pirates last week
The Samho Jewelry vessel was hijacked in the Indian Ocean
A ship captain shot in the stomach is recovering, Kim says
Seoul, South Korea (CNN) -- South Korea's foreign minister said Tuesday he wants five Somali pirates captured alive during the rescue of a hijacked ship last week to be put on trial in South Korea.
"It's a given that we deal with pirates who have caused damage to our people and attack our military, and along those lines we are seriously weighing the possibility of bringing the pirates to our country," Kim Sung-Hwan said.
The vessel, Samho Jewelry, was hijacked in the Arabian Sea off the coast of Oman earlier this month. South Koreans rescued 21 sailors, killed eight pirates and captured five others, according to South Korea's Joint Chiefs of Staff.
The captain of the 11,500-ton ship was shot in the stomach during the rescue, but no other crew member was hurt. Kim said the captain has undergone a first round of surgery and is recovering.
South Korean President Lee Myung-bak has praised the bold rescue and said the U.S. military assisted in the operation.
Kim defended the military's action to save South Koreans.
"I cannot agree to criticisms against our carrying out a military mission in order to rescue our people from those who have threatened their lives and safety," he said.
Ten minutes before the South Korean navy opened fire, the navy made an announcment on a loud speaker to the crew of the Samho Jewelry:
"Very shortly, the navy will attempt to rescue you," the navy declared. "Evacuate to a safe place and do not come outside." The order was made in Korean -- not likely understood by the Somali pirates -- and is thought to have helped save South Korean lives.
FOLLOW THIS TOPIC