Attacks kill 5 in northwest Pakistan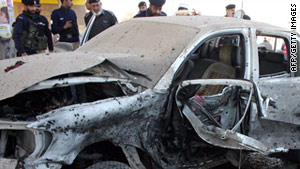 Pakistani police examine the wreckage of a vehicle after a suicide bomb killed at least five in Peshawar on Monday.
STORY HIGHLIGHTS
NEW: Militants attack supply lines in southwest Pakistan
A bomb hits a police vehicle in the second attack
The casualties include police and civilians
At least 19 are injured in the attacks
Islamabad, Pakistan (CNN) -- Attacks targeting police in northwest Pakistan Monday killed at least five people Monday, including four police personnel, authorities said.
Four people died in a suicide attack in Peshawar when a bomber walked in front of a marked police van and blew himself up, according to Pakistani government official Muhammad Siraj. Of them, one was a senior police official and three were police officers.
Sixteen people were also injured in the attack, Siraj said. The casualties included police and civilians.
A fourth police personnel was killed hours later when a bomb hit another police vehicle while on patrol in Peshawar, according to Shafi Ullah Kahn, a senior Pakistani police official.
The second attack wounded three other officers.
Peshawar is the capital of Khyber Pakhtunkhwa province, which has been plagued by militant activity and sectarian violence that has spilled over from Pakistan's nearby tribal region.
In the country's southwest, militants on motorcyles attacked and burned three oil tankers taking fuel to U.S. and NATO troops in Afghanistan on Sunday night, a Pakistani police official said.
The attack took place 50 kilometers (31 miles) south of Quetta in the southwestern province of Baluchistan, according to Noor Ul Haq.
Sunday night's attack came hours after another group of militants on motorcycles torched two NATO supply trucks traveling through Baluchistan province that were also on the way to Afghanistan.
More than half of U.S. and NATO supplies in Afghanistan travel through Pakistan. For the past two years, militants have tried to hobble supply efforts by attacking their supply convoys in Pakistan.
Pakistani officials say some of the trucks are targeted by criminals who want to sell the supplies and vehicle owners who want to cash in insurance polices.
FOLLOW THIS TOPIC