India mulls cross-party probe into telecom scandal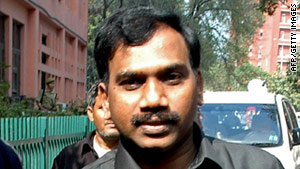 Former telecom minister A. Raja has been arrested in connnection with a massive telecom scandal in India.
STORY HIGHLIGHTS
Opposition groups have called for a wider investigation in to the scam
Those linked to the probe have denied any wrongdoing
A decision on the opposition demand is expected in two to three days, a minister says
The treasury lost up to $31 billion from the 2008 sale
New Delhi, India (CNN) -- A decision on a cross-party probe into India's massive telecom scandal that has rattled the federal government may be taken as early as next week, an official said Friday.
India's opposition parties have been vociferously demanding Prime Minister Manmohan Singh's government set up a joint-parliamentary committee (JPC) for a wider investigation into the alleged multi-billion dollar scam.
Several high-profile company executives have been questioned by federal police in connection with the suspected below-price sale of radiowaves in 2008.
Investigators have also arrested A. Raja, who quit as telecom minister as the scandal battered Singh's coalition government.
Politicians, bureaucrats and corporate officials linked to the probe have denied any wrongdoing.
India's parliament is due to meet for its key budget session starting Monday. Opposition calls for a cross-party investigation into the award of the 2008 mobile-phone licenses paralyzed the previous sitting.
Conventionally, a joint-parliamentary committee is announced when parliament is in session, parliamentary affairs minister ministry spokeswoman, Sheyphali Sharan, said. . A decision on the opposition demand, therefore, is expected in two to three days, she explained.
India's prime minister Singh, regarded as the architect of the country's economic reforms, has come under intense attack by his critics for his handling of corruption in government.
"I am not afraid of appearing before any committee, including a JPC," Singh told a news conference on Wednesday as he sought to defend his administration from a barrage of allegations.
He insists wrongdoers will be punished.
According to government audit, the treasury lost up to $31 billion from the 2008 sale of second-generation wireless spectrum. The damning audit report came on the heels of allegations of massive fraud in sports and real estate.
Investigators are already probing complaints of financial malfeasance in the Commonwealth Games that India hosted in October last year.
And several politicians, military officials and bureaucrats have been the subjects of a separate inquiry for allegedly taking apartments meant for war-widows.
FOLLOW THIS TOPIC