Tension between Petraeus, Afghans over airstrike, children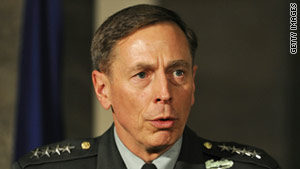 The U.S. military denies Afghan claims that Gen. David Petraeus dismissed concerns about burned children.
STORY HIGHLIGHTS
At issue is an airstrike and Petraeus' remarks about burns on children
Unnamed Afghans say Petraeus said parents may have purposely burned their children
Petraeus said no such thing, according to a military spokesman
Some Afghan parents reportedly discipline children by burning them, the spokesman said
Washington (CNN) -- The U.S. military is denying Afghan government accusations that Gen. David Petraeus, the commander of international forces in Afghanistan, callously dismissed concerns of an airstrike burning children in a northwest village.
The accusation, reported by the Washington Post, stemmed from a weekend meeting in Kabul between Afghan officials and the general to discuss an airstrike in Kunar province.
Afghan officials say the strike killed nearly 50 women and children, in addition to 16 insurgents. The International Security Assistance Force said its weapons system video showed that 36 insurgents carrying weapons were killed.
According to the Washington Post, Petraeus addressed the issue during a meeting with Afghan officials Sunday at the presidential palace. The newspaper cited unnamed Afghan officials in the meeting as saying Petraeus said parents may have purposely burned their children to make it seem like they were victims of the U.S. air strikes.
Petraeus said no such thing, according to a statement from the top ISAF spokesman in Afghanistan, Rear Adm. Greg Smith.
"At a Sunday NSC (National Security Council) meeting, General Petraeus never said children's hands and feet were purposely burned by their families in order to create a civilian casualty event. Rather, he said the injuries to the children appeared inconsistent with the types of munitions used," Smith said in a statement.
He said Petraeus did say in the meeting that he had an idea how the children were burned. "The burns to their hands and feet may have been the result of discipline sometimes handed out to Afghan children. Regrettably this is customary among some Afghan fathers as a way of dealing with children who misbehave."
"There are periodic reports of children being disciplined in a manner that would produce such burns," the statement added.
It wouldn't be the first time that has happened. A 2009 State Department report on Human Rights in Afghanistan said: "In extreme examples of child abuse, observers reported several instances of deliberately burned children in Paktya; the children sustained burns after their parents submerged them in boiling water."
Afghan officials did not return calls seeking comment.
FOLLOW THIS TOPIC